Mike Pence's abortion comments stir debate on fatal prenatal diagnoses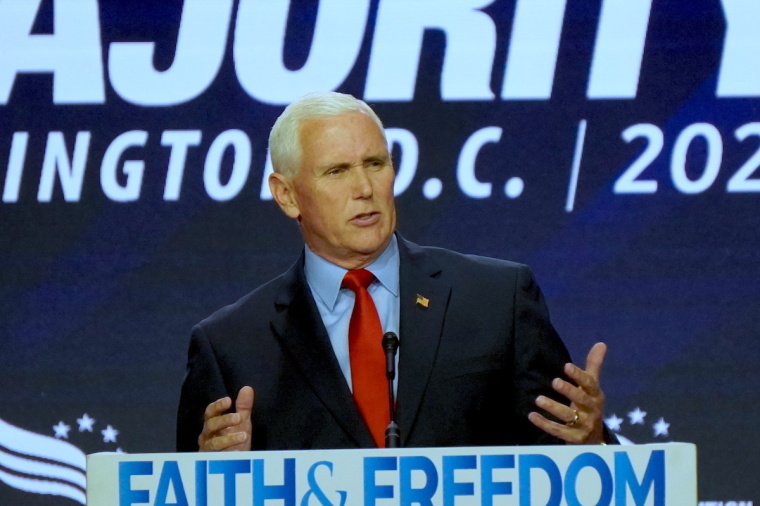 Former Vice President Mike Pence's recent comments saying he opposes abortion even when an unborn child is diagnosed with a terminal illness has re-sparked a debate on the ethics of abortion when doctors deem an unborn child to be "incompatible with life."
Throughout Pence's 2024 campaign for the Republican presidential nomination, he hasn't shied away from voicing his strong opposition to abortion, calling on every Republican candidate to support a federal 15-week abortion ban as a "minimum."
Most recently, he made headlines with comments during an interview with The Associated Press clarifying that he still opposes abortion in cases where a child diagnosed with a fetal anomaly is not expected to survive. 
"I just have heard so many stories over the years of courageous women and families who were told that their unborn child would not go to term or would not survive," Pence was quoted as saying. "And then they had a healthy pregnancy and a healthy delivery."
"I want to always err on the side of life," he said. "I would hold that view in these matters because ... I honestly believe that we got this extraordinary opportunity in the country today to restore the sanctity of life to the center of American law."
As AP and some other media outlets stated in their headlines that Pence supports abortion bans in nonviable pregnancy cases, an advisor to the former vice president told CP Thursday that Pence was referring to adverse prenatal diagnosis cases, not situations where the mother's life is at risk, such is the case with ectopic pregnancies.
Abortion proponents believe abortion should be available if the preborn child is not expected to live long after birth. 
Alan Peaceman, professor emeritus of obstetrics and gynecology at Northwestern University's Feinberg School of Medicine, argued that carrying a pregnancy to term in these situations places the mother's mental health at risk.
"It is psychological torture to go out in the world, for people to see your pregnancy — and people will come up to you and want to talk about your pregnancy," Peaceman said in a statement published by AP.
"And that puts the woman in a terrible position that nobody should be in unless they chose to be in that position."
Behavioral scientist Caroline Orr Bueno tweeted Wednesday in response to Pence's remarks that his position would "force women to carry a doomed pregnancy to term just so they could go through the trauma of delivering a dead fetus."
The ongoing debates about abortion bans and restrictions follow the U.S. Supreme Court's reversal of Roe v. Wade last summer, restoring regulatory power over abortion to the states. Following the decision, multiple states banned the procedure with few exceptions or enacted restrictions.
Dr. Jeffrey Wright, an OBGYN and maternal-fetal medicine specialist of the American Association of Pro-Life Obstetricians and Gynecologists, acknowledged that every parent wants their preborn child to be healthy and live long. 
"Unfortunately, several thousand families every year receive prenatal diagnoses indicating that their child's life will likely be significantly shorter than average — ending before or shortly after birth," Wright told CP in a statement.
"For families facing such diagnoses, perinatal palliative care (PPC), also known as perinatal hospice, is a life-affirming option that allows them to have support as they honor and grieve their child while navigating his or her final stages of life."
Wright also noted that many studies have found that continuing a pregnancy after an adverse prenatal diagnosis is not "psychologically harmful" for women compared to having an abortion.
According to a study published in October 2016 in the Midwifery journal, women who abort a pregnancy due to a fetal anomaly "express considerable physical and emotional pain, with psychosocial and reproductive consequences." The study, conducted in 2014, assessed over 1,600 messages from 122 posters in Swedish virtual communities before, during and after the abortion. 
Another study published in 2015 in the journal Perinatal Diagnosis examined 158 women and 109 men who lost a child due to a fetal anomaly. The study found that higher levels of depression were associated with women who aborted instead of carrying the pregnancy to term. 
"PPC has also been found to lower parental anxiety compared to abortion," Wright stated. "Most importantly, however, PPC respects the dignity and humanity of the preborn child, which is what physicians are sworn to do with our patients."
"Deliberately ending the lives of our patients upon receiving an adverse diagnosis (which is what induced abortion constitutes) is not healthcare, nor is it a valid way to serve grieving parents. Pregnant women and their preborn children deserve better."
Sarah St. Onge (name changed for privacy reasons), a mother who carried her daughter to term despite pressure from doctors to abort, asserted that a terminal diagnosis doesn't erase the child's humanity. 
In March, St. Onge shared with CP her story of carrying her daughter Beatrix to term after the baby was diagnosed with Limb Body Wall Complex, a condition that proved to be fatal for her child, as she lived for less than two hours after being born. 
"Would we be saying the same for a child with terminal cancer?" she asked in a statement to CP. "That parents should be able to choose euthanasia for their dying toddler?" 
"Abortion advocates characterize this as someone being 'removed from life support,' but it's not," St. Onge continued. "Removing someone from life support allows the natural dying process to happen; it's not active intervention, but a removal of interventions. This is bold-faced killing. They are advocating for the killing of children and calling it mercy." 
The mother cited the online resource Perinatal Hospice & Palliative Care, which offers information about carrying a pregnancy to term after an adverse diagnosis and dispels myths about the practice.
St. Onge argued that carrying a pregnancy to term in such cases is associated with better mental health outcomes because the parents had an opportunity to process their child's death the same way they would if their child died under different circumstances. 
"The biggest concern many people have is pain, but there is no evidence that most of the disorders babies are aborted for have any pain-related symptoms," she stated. "In addition, abortion most certainly causes pain: so what makes it the better option to solve this problem?" 
In June, Pence announced that he was running for president, joining a field of Republican candidates that include the president he served under for one term, Donald Trump.