Mike Rowe Responds to Critics Who Don't Like His Move to Christian TV Network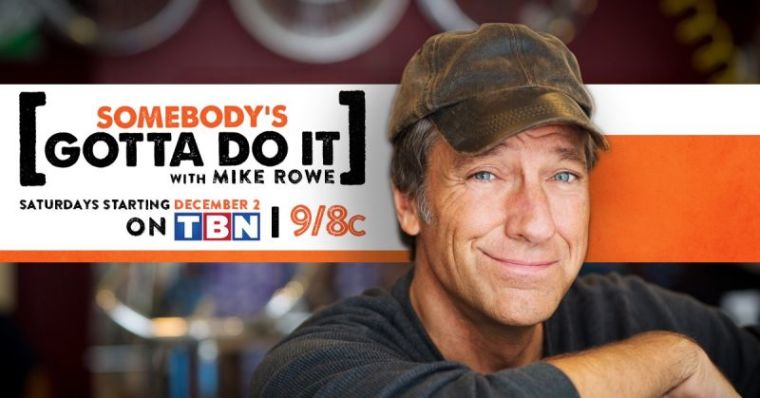 Since moving his show, "Somebody's Gotta Do It," to the Trinity Broadcasting Network, host Mike Rowe has received criticism from people who disapprove of the decision.
Recently, Rowe responded to some of the critiques being leveled at him and the decision he made to broadcast on a Christian-owned TV network. 
The first critique came from a man (who won't be named in this report) that said Rowe is "being used as a pawn to sell this current administration" because "Christian networks are QVC for Trump."
In response, Rowe questioned how he was being used to sell people on the current administration when he hasn't mentioned the president and he's even said that he has no desire to be political.
Rowe added: "The country is clearly divided, but does that mean I'm only allowed to talk to half? I run a foundation that awards work ethic scholarships, and I produce TV shows that I want people to watch. All people. Consequently, I'll put the programs I produce on any channel that wants them."
Rowe, who's most famous for his Discovery Channel program "Dirty Jobs," first aired his TBN series, "Somebody's Gotta Do It," in December 2017. This series, which originally aired on CNN in 2014 and has since been repurposed, highlights everyone from scientists to do-gooders, from entrepreneurs to collectors, people who Rowe says, "do what they do because of a weird mix of love, compulsion, obsession, dedication — whatever it is." The individuals shown are often people who have a deep, Christian faith.
He told The Christian Post in an interview last year that what's most important for the series is its "unscripted content, no second takes, and real people who can in their own words describe what they're doing, why they're doing it," Rowe explained.
Rowe said he sees his role not so much as a host but as an "avatar and a cipher," to display people as they are, doing something they enjoy, and then letting the evidence of all that speak for itself. And when done right, he noted, the kinds of shows he works on leaves people feeling better about the state of the nation and better about the human race more generally. 
Another critic, who will also remain unnamed, accused Rowe of going after people who have their "head in the sand" by using "one of the only things that tugs at their heart strings."
In response, Rowe refuted the claim that people have their heads buried in the sand because he believes that there are many out there who are "tired of grandstanding journalists and elected officials whose only priority is to remain in power." Rowe also believes that those same people are sick of dealing with others who are dismissive of differing opinions.
He added that there are people in the country who want to be reminded of values like unity and decency, and said his show can do that regardless of the channel it's on.
The TV host also responded to a critic who accused him of selling his soul to a religious establishment.
Rowe again refuted the claim that he has sold his soul, and he wondered if those making such accusations believe that TBN viewers shouldn't be able to watch a show that aired on CNN for years.
Yet another critic said that Rowe's decision to have his show air on TBN "excludes and offends me." The woman then suggested that Rowe's decision must be about money.
In response, Rowe noted that his shows have aired on a variety of networks. Rowe also acknowledged that his show does exist in part to make money, but he also mentions that show business is simply designed that way.
He also said that he doesn't subscribe to the notion that having his show air on TBN goes against its theme of inclusiveness because if that were the case, then the network itself would not sign off on the program.
Rowe was raised a Presbyterian in Baltimore County, Maryland — his grandfather built part of the church he grew up in. He told CP that in his family, faith "was never the main attraction, it was always around the edges."
"Of course we went to church, of course there were Lenten dinners," and the Boy Scout troop he was a part of met in the church basement, he said.
"It really wasn't until I was 15 or 16 years old that I realized that the church was always there. It was always a part of what we were doing, even if it wasn't at the center of everything we did. But when I started making TV, I realized that a lot of the places where I went, people's faith and people's church ... they occupied the same kind of real estate. But when I saw the finished versions of other shows, those things were always cut out," he said.
He mentioned that he never set out to do anything radical with "Somebody's Gotta Do It" or "Dirty Jobs," but when he sits down in someone's home for a meal and the family bows their heads to pray before eating, he tells the network, "Look, it's a disservice to them to edit out the grace. This is who they are and that's what they do before dinner."
"My bigger issue is just saying to television in general: 'Don't tell the story you want to tell. Tell the story you find.' And by and large, if you commit to telling the story you find you are going to find people who have an element of faith in their life."