Miley Cyrus Lends Star Power to Homeless Youth Charity at VMAs; Donations Pour In (VIDEO)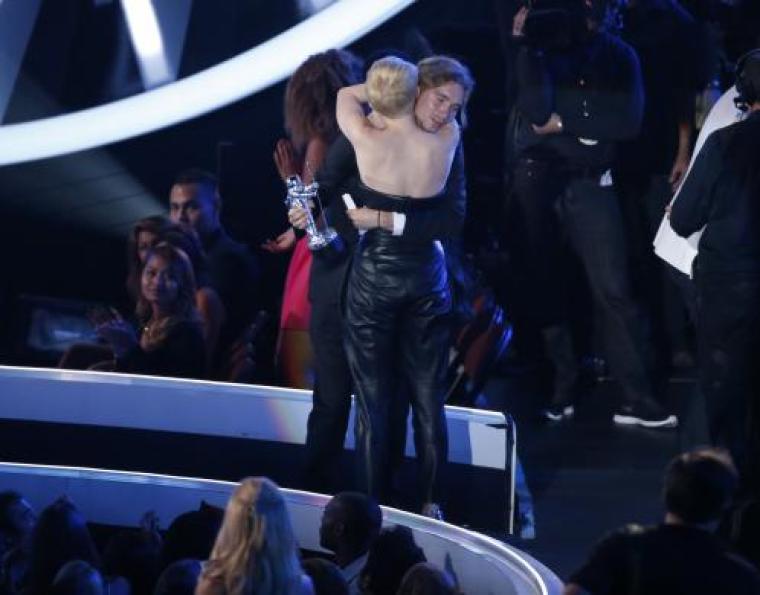 Donations are pouring in for the Los Angeles charity supported by Miley Cyrus at the MTV Video Music Awards last night.
On Sunday the controversial pop star, 21, set tongues wagging for the second year in a row but this time for a good reason. Cyrus won the Video of the Year award for her hit song "Wrecking Ball;" however, she asked a homeless youth to accept the award on her behalf to bring attention to the charity My Friend's Place (MFP).
Jesse, a 22-year-old homeless youth from Oregon, had Cyrus and others in the crowd in tears during a moving speech designed to raise awareness about homelessness in Los Angeles. He once received assistance from MFP.
"My name is Jesse. I am accepting this award on behalf of the 1.6 million runaways and homeless youth in the United States who are starving and lost and scared for their lives. I know, because I am one of those people," the longhaired man told the crowd.
According to MFP, which is privately funded, there are "an estimated 4,000 homeless youth" in Los Angeles County.
Cyrus reportedly met Jesse during a visit to MFP on Tuesday, and the singer covered expenses for his stay at the BLVD Hotel & Spa in Studio City, Calif. during the weekend ahead of the VMAs. He wore a designer suit to the music event, which Cyrus also reportedly paid for.
"I have survived in shelters all over this city. The music industry will make over $7 billion this year, and outside these doors are 54,000 human beings who have no place to call home," Jesse added. "If you want to make a powerful change in the world right now, join us and go to Miley's Facebook page."
Cyrus provided a link to fans via Facebook where they have been generously donating to the charity. An overwhelming number of fans flocked to the prizeo.com campaign page to donate as little as $5.00 and up to $125.00 each.
"I'm starting this campaign not only to bring awareness to this issue, but also to raise funds to end youth homelessness," Cyrus wrote via prizeo.com. "This is just the beginning for me, but we're going to get started now by focusing on My Friend's Place, a homeless center for young people in Hollywood."
Those who donate are also given the chance to meet Cyrus in person at her Bangerz tour show in Rio de Janeiro on September 28th.