Miley Cyrus on Sexuality: 'I'm Open to Every Single Thing That Is Consenting and Doesn't Involve an Animal'
Miley Cyrus on Sexuality: 'I'm Open to Every Single Thing That Is Consenting and Doesn't Involve an Animal'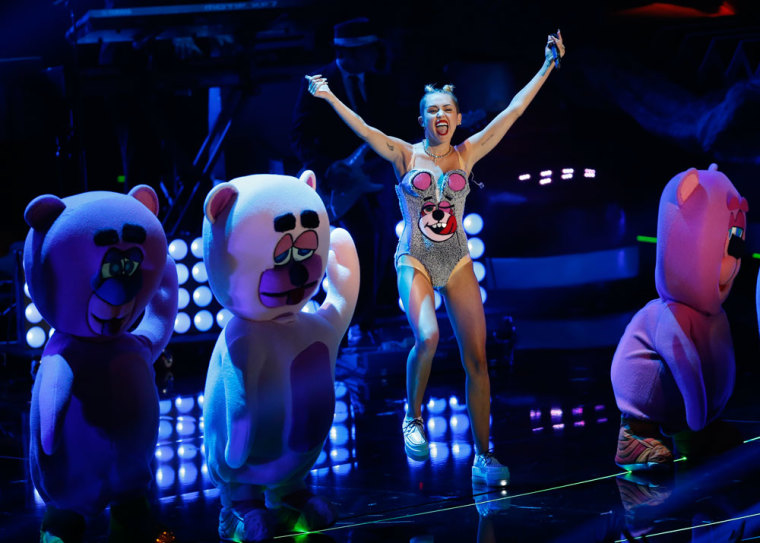 In a recent interview discussing her "fluid sexuality," pop singer Miley Cyrus revealed to controversial Paper magazine — in which she appears nude posing with a pig — that she's sexually open to "every single thing that is consenting and doesn't involve an animal."
The former "Hannah Montana" star revealed that she is sexually attracted to both men and women and has been since she was 14 years old.
"I remember telling [my mother] I admire women in a different way," said Miley in the interview. "And she asked what that meant. And I said, I love them. I love them like I love boys. And it was so hard for her to understand. She didn't want me to be judged and she didn't want me to go to hell. But she believes in me more than she believes in any god. I just asked for her to accept me. And she has."
In discussing her gender identity Cyrus said: "I don't relate to being boy or girl, and I don't have to have my partner relate to boy or girl."
She continued: "I am literally open to every single thing that is consenting and doesn't involve an animal and everyone is of age. ... Everything that's legal, I'm down with. Yo, I'm down with any adult — anyone over the age of 18, who is down to love me."
Cyrus confessed to having romantic relationships with women that were just as serious as her highly publicized romances with actor Liam Hemsworth and singer Nick Jonas. She said they never were "brought into the spotlight."
The pop singer appears nude and covered in mud in the latest issue of Paper, the same magazine that featured the infamous nude Kim Kardashian spread that "broke the Internet" back in November of last year.
Cyrus made a name for herself on the Disney Channel playing the fictional singer Hannah Montana. She was raised as a Southern Baptist and was baptized as a Christian in 2005.
Her religious views and public image have changed rapidly, however, in recent years. Cyrus shed the good girl image she developed on the Disney show in 2013 with the release of her Bangerz album which featured songs about hard partying and sex. She also appeared nude in the music video for "Wrecking Ball" which ended up becoming one of her biggest hits off the album.
In a heated Twitter spat with her followers in 2012, Cyrus told them to "forget Jesus" in a discussion about religion and science.
"You are all stardust. You couldn't be here if stars hadn't exploded, because the elements (carbon, nitrogen, oxygen, all the things that matter for evolution) weren't created at the beginning of time. They were created in stars. So forget Jesus. Stars died so you can live."