'Million Dollar Arm' Brings True Story of India's First Baseball Stars to Theaters Friday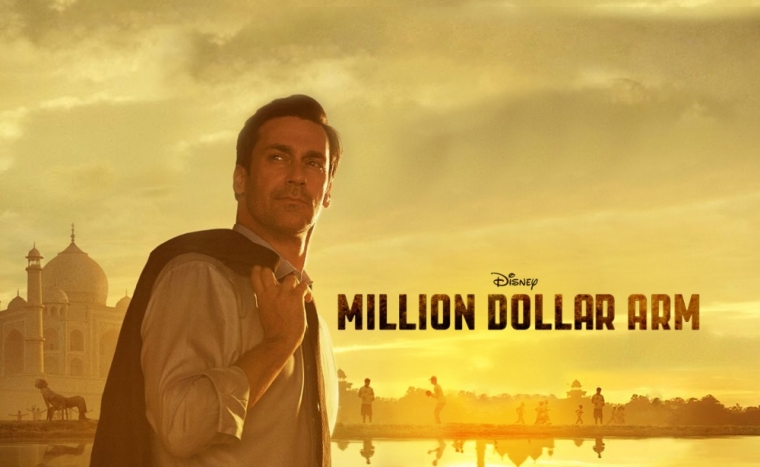 "Million Dollar Arm" is opening nationwide later this month, giving families everywhere a reason to head to theaters and enjoy inspiring entertainment together.
The Disney film stars Jon Hamm as J.B. Bernstein, a struggling sports agent who opens an "American Idol" style contest in India in search of Major League Baseball talent amongst the nation's cricket-avid fans. J.B. brings two winners from Bombay with him to the U.S. when he learns the true meaning of responsibility, as well as a lesson in love, while trying to get the athletes signed professionally. Based on a true story, "Million Dollar Arm" explores cultural differences, perseverance, and the ability for people- even workaholics- to change.
This week, "Million Dollar Arm" producer Mark Ciardi spoke with The Christian Post revealing more about the feel-good flick. Ciardi has produced films such as "Secretariat," "Rookie," and "Miracle," among many others, and similar to those, his latest "Million Dollar Arm" is a rousing story about an underdog.
"I think all Americans love an underdog story, so it's finding that story that transcends, lifts, and move you," Ciardi said. "It can be a story everyone knows about, it can be big or small, people really love underdog stories and they come in in all shapes and sizes. This one was very unique for us, and really the end effect of JB finding family and them starting his own family, it was really appealing for us."
The producer added that "Million Dollar Arm" offers the audience a unique brand of hope since the two baseball players from India, Rinku Singh and Dinesh Patel, had never even held a baseball before getting signed professionally. Furthermore, Ciardi explained his personal connection to J.B. Bernstein's unlikely success story.
"I knew J.B. well before I was in the film industry, I knew him personally," the producer told CP. "In 2007 I ran into him before he was headed to India, and over the noise in the restaurant, he told me the idea and I was going, 'Really? All right good luck,' and thinking, 'That was a little crazy.' And then about a year and a half later he had news that he got both kids who had won the contest signed professionally. I was stunned. We thought it could be a great movie, we headed to Disney and got it developed."
As for casting "Mad Men" star Jon Hamm as J.B. in the film, Ciardi assured fans that the actor easily transitioned from Don Draper for the role.
"He's such a good guy- funny, knowledgeable, and is a huge, huge sports fan, he probably knows more about baseball than I do," Ciardi told CP. "He thought this was the perfect movie for his first starring role, he's not a whole lot like Don Draper, he's got so much more- he's such a good actor."
Ciardi went on to discuss J.B.'s onscreen transition from a business man to a family man in the film. At one point in "Million Dollar Arm," J.B. says, "I don't pray, I work." However, the busy sports agent undergoes a deep change toward the end of the emotional story.
"It's a double fish out of water story, and because of that its quirky, there's inherent humor, but it's also when you reach the bottom when J.B. does in the film, overcoming all those obstacles and getting those kids signed, it is fun watching that emotional transformation," the producer concluded. "I hope the audience is inspired, I hope they laugh and cry, and I feel proud of the film."
"Million Dollar Arm" opens in theaters everywhere May 18. Watch a clip from the film here.