Minnesota pastor left paralyzed after slipping on ice outside church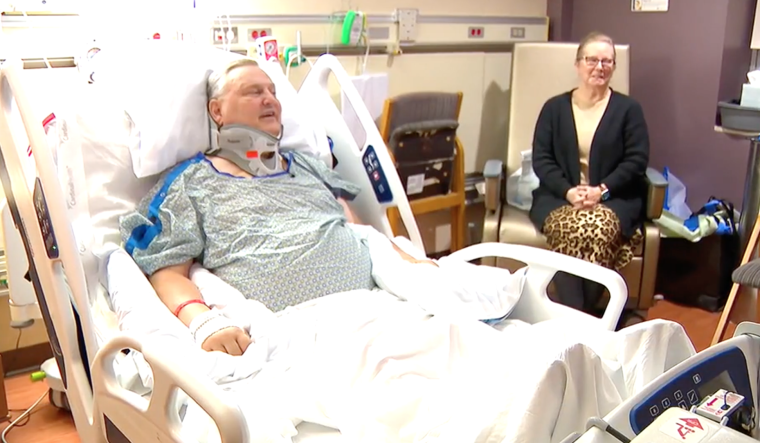 After slipping on ice in front of his church in Minnesota, which left him partially paralyzed, 64-year-old Pastor David Kent recounted his devastating experience while showing faith in God as a healer.
"Took one slip, I was down on the ground. My hands, my arms, my legs were all paralyzed," Kent of Christian Life Center in Golden Valley told KSPT, recalling the Dec. 16 accident. "I couldn't move, my hands were in the snow. I knew that wasn't good."
The pastor, who broke his neck, was taken to North Memorial Health Hospital where surgeons operated on his spine and he remains paralyzed in his arms and legs. 
"They said we need to do surgery quickly, because he's broken his C4 and C5," the pastor's wife, Susan, told KSPT. "They said spinal cord injuries have to have surgery within 24 hours … and if they didn't do it fast, (the area) below the C5 could be damaged as well."
Pastor Kent was walking down the street that is owned by the church to talk to some tree-trimming workers when he slipped, according to an online fundraiser for his treatment, which is likely to cost more than $350,000.
According to CCX Media, the pastor has self-pay health insurance.
"It will be a long road ahead of rehabilitation, occupational therapy and physical therapy, to determine when/if he will regain feeling and movement in his body," the fundraiser says. "The rehab may be slow and take months, even years. Rehab will also work with the family and David to gain as much independence as possible."
The pastor told KSPT he remains optimistic.
"It may be a slow healing, but I believe he is going to walk again," his wife, Susan, was quoted as saying. "I don't know how long it will take, I don't know how much rehab he'll have to go through. But we have hope."
Pastor Kent added, "I wouldn't wish this on anybody. Definitely, it's been an experience where I can say I've been blessed — because of all the people that have come alongside and been a strength to me."
He told CCX Media, "I serve a mighty big God. He's able to do exceeding, abundantly, above all that we're able to ask. So, I have total faith. My God is a healer."
The required 90-day in-patient rehab will cost about $3,900 a day. "After David completes hospital inpatient rehab, he will need outpatient therapy which will bring much additional medical equipment expenses."
The pastor's family says they "typically would never ask" for money from friends, family and the community. "However, David has given so much of himself that we are now asking the community to give back. We do not have the resources required, but we know that anything is possible when we all band together."