'Walking the walk': Mississippi governor signs more than half-dozen 'pro-mom and pro-life' laws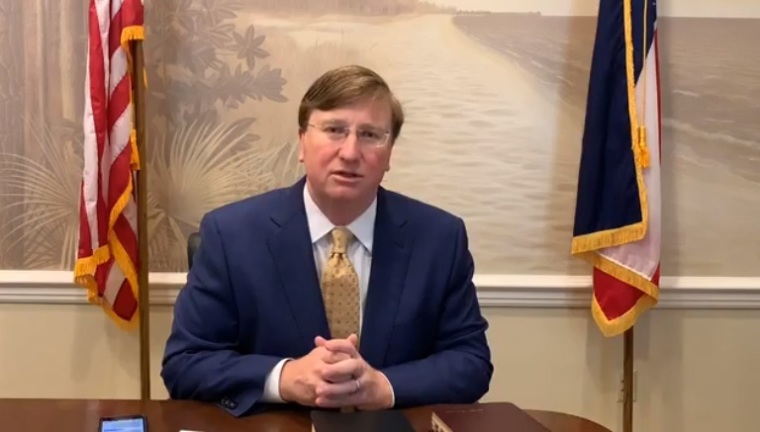 A pro-life group is praising Mississippi's Republican Gov. Tate Reeves for signing into law more than a half dozen bills designed to make it easier for families to adopt and care for children as the pro-life movement shifts its focus in the aftermath of a major national change in abortion policy. 
Reeves' office announced Wednesday that he had signed seven "pro-mom and pro-life" bills into law. The legislation he approved increases the tax credits available to pregnancy centers, establishes tax credits for expenses related to adopting children, creates a task force that will make recommendations regarding changes to state laws about adoption and foster care, separates the Mississippi Department of Child Protection Services from the Mississippi Department of Human Services and creates a bill of rights for foster parents.
Additional measures approved by Reeves give the Mississippi Department of Child Protection Services what Reeves' office describes as "the largest budget in its history" and increases the age children can be dropped off at safe haven boxes across the state. Reeves signed three of the legislative initiatives at a press conference Wednesday and said he had approved the other four beforehand. 
"Mississippi will always protect life. Our state will continue to be a beacon on the hill, a symbol of hope for the country, and a model for the nation," Reeves vowed in a statement. "Mississippi will be relentless in its commitment to life. We will be relentless in our support of mothers and children. And we will be relentless in our efforts to advance the New Pro-Life Agenda. The legislation I signed today is further proof that when it comes to protecting life, Mississippi isn't just talking the talk — we're walking the walk."
Caitlin Connors, southern regional director of the pro-life group Susan B. Anthony Pro-Life America, sees Mississippi's passage of these bills as consistent with the state's record of passing pro-life legislation, noting that its 15-week abortion ban was at the center of the U.S. Supreme Court's Dobbs v. Jackson Women's Health Organization decision determining that there was never any constitutional right to abortion. As a result of Dobbs, states now have more authority to make abortion laws.
"The state that restored the right of the people and elected leaders to protect unborn children makes history again today, as Governor Reeves signs eight pro-life safety net measures into law," she said. "Through its Gestational Age Act, the life at conception protection that is now in effect, and more policies and programs that help families, it's incredible to see how much ground Mississippi has covered in the course of a year to protect their unborn and serve mothers in the Dobbs era."
Connors expressed gratitude to "Gov. Reeves, Attorney General Lynn Fitch, and legislative leaders for boldly advocating measures that carry out the full-picture pro-life mission to support women during pregnancy and beyond." 
The passage of the legislation follows a call from Lila Rose, the founder of the pro-life group Live Action and a major figure in the pro-life movement, to embrace measures designed to make the U.S. a "friendlier place for families." In a previous interview with The Christian Post, Rose described achieving such a goal as "a crucial pro-life public policy objective" and insisted that the pro-life movement "should be focused on both private and public financial support for families to help them raise their children."
Rose told CP that "it can be very hard to raise children in our world today, not just because of our culture but because of these economic struggles that many families face, would-be parents face." Additionally, while she acknowledged that the Republican Party has a "libertarian faction who sees any government spending as a 'no,'" she maintained that the pro-life movement was making "progress" in convincing GOP lawmakers to embrace legislation that advances the "well-being and sanctity of the family."
Reeves' approval of the pro-life legislation follows the measures' passage in the Republican-controlled Senate and House of Representatives. Although Reeves and pro-life groups touted them as pro-life initiatives, which would suggest that they only passed with support from Republicans, most of the bills received substantial support from Democrats, while the only opposition to the legislation came from Republicans in some cases. 
House Bill 510, which creates a Foster Parents' Bill of Rights, received bipartisan support in the Senate, with all Republicans voting in favor of the measure and only two Democrats voting against it. It attracted no opposition in the House. 
Only a small minority of Senate Democrats supported House Bill 1671, which nearly triples the tax credit pregnancy centers are eligible for from $3.5 million to $10 million. However, the measure received a much higher level of support in the House. 
The Senate approved House Bill 1318, which authorizes safe haven baby boxes across the state, in a 48-1 vote, while no member of the House voted against it. The "baby safety devices" mentioned in the bill allow parents to anonymously drop off their children in a "climate controlled" environment and turn them over to an "emergency medical services provider." These devices enable women who feel they don't have the resources to take care of their children to still give them a chance at life. 
Senate Bill 2384, which establishes the Mississippi Task Force on Foster Care and Adoption, secured unanimous support from the Senate, with minimal Republican opposition in the House. House Bill 1625, which allocates more than $100 million to the Department of Child Protection Services, received the unanimous support of the Mississippi Senate and only two Republicans in the House of Representatives voted against it. 
The House and the Senate unanimously supported House Bill 1149, which separates the Mississippi Department of Child Protection Services from the Mississippi Department of Human Services. Senate Bill 2696, which will provide a tax credit of $10,000 for parents adopting children within the state of Mississippi and a $5,000 tax credit for those adopting children from outside of the state, secured the unanimous support of the Senate and House as well. 
While Reeves' office did not include Senate Bill 2781 in the list of bills he signed, Susan B. Anthony Pro-Life of America touted the measure as the eighth pro-life law approved by Reeves. The legislation requires the state to "develop, implement and manage a separate website and a mobile application (app) that coordinate and promote information and services related to pregnancy, childbirth and care for dependent children for expectant mothers and new parents." It received unanimous approval from the Senate and a near-unanimous vote in the House.