Mitt Romney's Mormon Faith Driving Him to Consider 3rd Try at Presidency; Will Decide in '2 Weeks'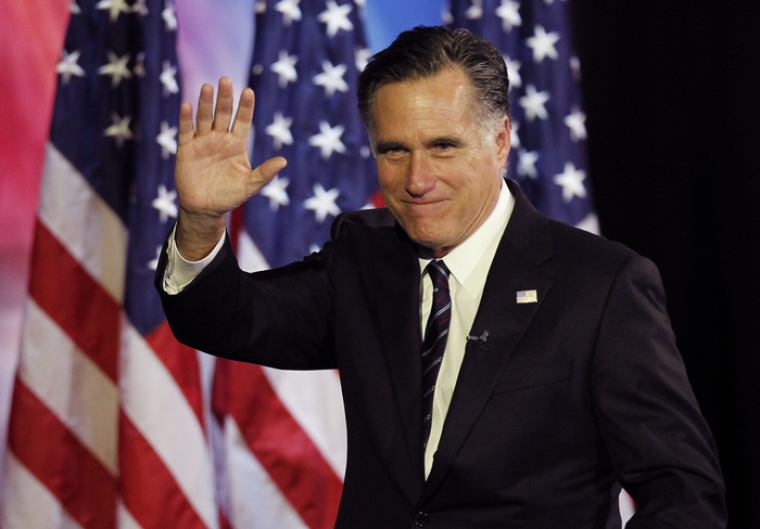 Former Massachusetts Governor Mitt Romney will reportedly decide on a 2016 presidential bid in coming weeks and a close ally says the idea of a third run is being driven by his Mormon faith.
Despite having lost the 2008 Republican nomination to Arizona Senator John McCain and the 2012 presidential election to Barack Obama, Romney remains hopeful about his future in politics. Veteran journalist Larry King confirmed over the weekend that the former Mormon pastor is seriously considering another bid at the presidency.
"Flew into SLC w @AnnDRomney. @MittRomney picked her up. He told me he'll decide about a run for President w/in 2wks," King tweeted to his 2 million Twitter followers on Saturday.
Romney, 67, rarely spoke about his Mormon faith on the 2008 and 2012 campaign trail under advice from his advisers, but according to Kirk Jowers, a fellow Mormon who chaired Romney's political action committee, religious beliefs drive his strong sense of nationalism and his desire to serve.
His consideration of a third presidency campaign stems mostly from an "almost devout belief that he needs to do something for this country," Jowers told The New York Times.
The Bain Capital co-founder is a fifth-generation Mormon and he and his wife Ann are members of the Church of Jesus Christ of Latter-day Saints, also known as the Mormon Church. Mormonism will be more openly discussed on a political scale this time around, should he decide to run again, Jowers claims.
"In 2008, Romney risked being a caricature of the Mormon candidate," he said. "Now everyone seems to know everything about him, and that will be very liberating for him to talk about his faith."
Mormon filmmaker Greg Whiteley, producer of the Netflix documentary "Mitt," attributed Romney's persistence to his faith.
"You're taught from a very young age that you're blessed to live in this country, and our church was founded in this country," Whiteley said. "There is a stream of patriotism in the Mormon faith that you're getting here."
GOP Rep. Jason Chaffetz of Utah, a fellow Mormon who has endorsed a third run by Romney, said perseverance is taught in the church.
"In the Mormon faith, public service is one of the most honorable things you do ... The idea of try and try again is something that's ingrained in the religion," he said.