Mocking 'Holy Laughter' Is Blasphemous, Pastor Rodney Howard-Browne Warns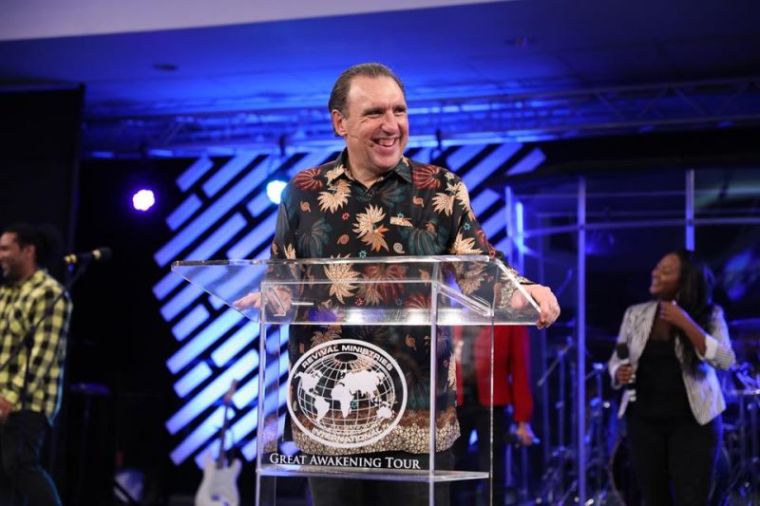 Pastor Rodney Howard-Browne of Revival International Ministries who was seen praying for President Donald Trump with other ministers in a viral photo he shared on social media last summer, is now warning that those who dismiss the "holy laughter" as ungodly are blaspheming against the Holy Spirit.
"Holy laughter" is described by the Got Questions ministry as "a phenomenon during which a person laughs uncontrollably, presumably as a result of being filled with the Holy Spirit's joy."
In a recent appearance on Sheila Zilinsky's podcast, Howard-Browne issued the warning after he was asked how he dealt with those who criticized the laughing portion of his ministry.
"That's a full-blown attack on the Holy Spirit," he said. "I'm telling you right now, they're blaspheming the Holy Ghost. Jesus said, 'Whatever is said against me will be forgiven, whatever is said against my Father will be forgiven, but whatever is said against the Holy Spirit will never be forgiven, not in this world or the world to come.'"
He further noted that he felt sorry for people who try to attribute the work of the Holy Spirit to demons.
"Blasphemy against the Holy Spirit is when you attribute the work of the Holy Spirit to the work of a demon spirit," Howard-Browne said.
"I feel very sorry for some people because whey they cross over into eternity, they are going to realize that they crossed so many lines. Jesus used to baptize in the Holy Spirit, so anyone who attacks the Holy Spirit and His movings and His workings are anti-Christ. They are attacking the very ministry of the Lord Jesus Christ himself," he added.
Got Questions noted however that there are convincing scriptural arguments against "holy laughter," including evidence found in Galatians 5:22-23.
It says, "But the fruit of the Spirit is love, joy, peace, patience, kindness, goodness, faithfulness, gentleness, self-control; against such things there is no law."
"If self-control is a fruit of the Spirit of God, how can uncontrollable laughter also be a fruit of His Spirit? Revival leaders claim that being filled with the Spirit means that we are sort of 'tossed about' by His whims. But the idea that God would make people act drunk or laugh uncontrollably or make animal noises as a result of the Spirit's anointing is directly opposed to the way the Spirit acts, according to Galatians 5:22-23," the ministry argued. "The Spirit described in Galatians 5 is one who promotes self-control within us, not the opposite. Finally, there was no one in the Bible more filled with the Holy Spirit than Jesus, and not once does the Bible ever record Him laughing."
Howard-Browne and his wife, Adonica, who have a weekly broadcast on Dish channel 269, first began as missionaries in South Africa before taking their work to America in the late 1980s, according to Vanity Fair. The couple travels around the United States 46 weeks of the year, according to the organization's Web site.