Molestation in Religious Camp and Addiction Did Not Stop Female Pastor From Embracing Destiny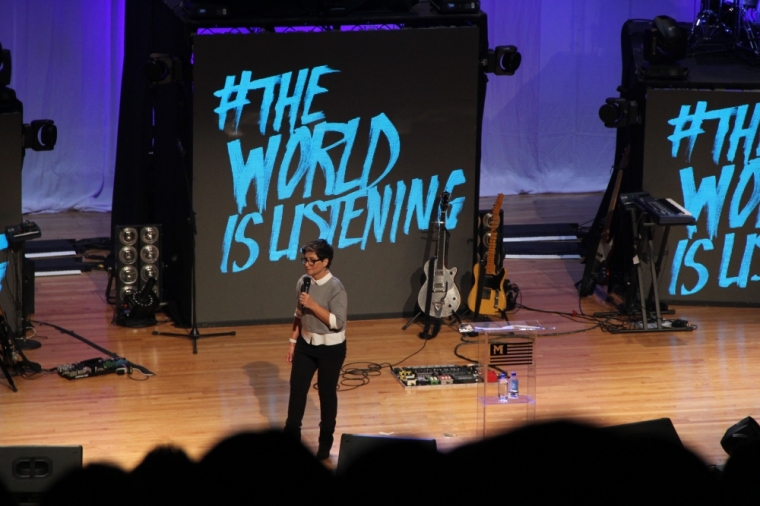 Pastor Maria Durso of Christ Tabernacle Church in Queens, New York bared her soul at last week's "Misfit the Conference" event in New York City and discussed horrifying past experiences that did not stop her from embracing her destiny.
The conference took place in Salvation Army Centennial Theater which is just two blocks away from where she grew up in Manhattan. She admitted to passing the building totally "stoned" as a youngster and discussed her addiction to drugs and drinking and God's deliverance from it.
"Twenty-five years of crazy immediately gone," said Durso when explaining how long her life had taken a turn for the worst and how easily God was able to heal that part of her.
She discussed some of the root causes of her addictions, which stemmed from her mother's death when she was a young girl. Her father sent her to a religious camp where she was sexually molested by some of the counselors and frequently woke up naked next to one of them, not knowing what happened the previous night. The workers there also broke down her self-esteem by telling her that God did not want her to have a mother.
Durso admitted that the damage done from these events stuck with her for a long time and kept her from fully embracing who she was in Christ when outside of a group setting. Although she was delivered from the external behaviors such as drinking and taking drugs, she still struggled internally. She then encouraged those in the crowd who might be dealing with a similar issue.
"God did not bring us out [of our sin], not to bring us into our destiny," said Durso. She used the example of the Israelites in the wilderness and how they still thought like they were slaves in Egypt.
"As long as we remain in the wilderness we'll never be world changers."
Even though God had set them up to inherit the Promised Land, they believed He was setting them up to fail.
Durso also made an interesting point about the human heart, stating that it actually has its very own brain. For Christians, it is sometimes difficult for the heart and head to both agree on what God has in store them. This is why she struggled.
"I was 18 inches from victory," the Pastor explained using the measurement between the organs to illustrate her internal struggle. "The heart may be a deceiver, but God is a retriever."
She followed the comments with a story about her time at a different camp; the kids played a card game where if they picked the Queen, they could be "Queen for a day." Durso admitted to not picking the card purposely because she could never think of herself as that.
Nearly 40 years later, while she was preaching at a conference, a woman in the crowd walked up to the stage holding the card she refused to pick as a young girl and told her that the Holy Spirit inspired her to do so. The Misfit Conference audience was moved.
Regardless of what she may have thought about herself, God believed differently. Durso encouraged the crowd to acknowledge that. She then concluded her sermon with a joke.
"If you could make it to church on a Friday afternoon you're definitely going to Heaven," said Durso.