Mom Defends 7-Year-Old Son's Ku Klux Klan Halloween Costume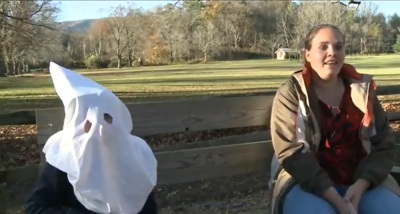 A Virginia mother is defending her seven-year-old's Ku Klux Klan Halloween costume after the boy's outfit was widely criticized on social media networks.
After a user posted the image on the WHSV Facebook page, Jessica Black told the news network that the costume was a family tradition.
"My brother has when he was in Kindergarten and when he was 13," Jessica said.
Black said she made the outfit for her son, Jackson, after he asked if he could dress up in the costume. She also said she warned him about others being offended by his costume.
"I did tell him that if you do it, you know there's going to be people talking about you, there's going to be people saying bad things about you when you do wear it," said Jessica.
Despite that criticism, Jessica said that her personal values are consistent with the Klan's, which she claimed did benevolent work.
"It's supposed to be white with white. Black with black. Man with woman and all of that. That's what the KKK stands for. The KKK every year, raises money to donate to the St. Jude's," said Jessica.
For his part, Jackson said he learned about the costume from the movie "Fried Green Tomatoes," a film about the friendship of two women in Alabama in the 1920s.
He also told reporters that he chose the costume because "it was cool."
Despite the justifications for wearing the costume by the mother, commenters on social media sites have remained hugely unimpressed, and have slammed her for allowing her child to wear the KKK outfit.