Montel Williams Rips Pastor Greg Locke for Satirical 'Pride' Video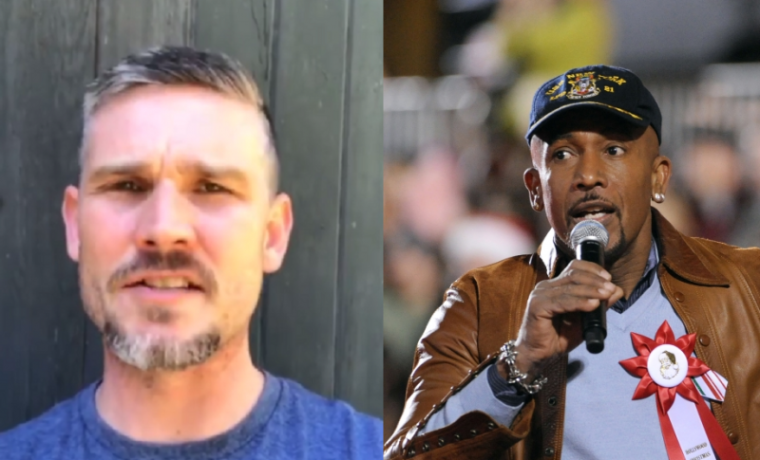 Conservative internet star and pastor Greg Locke has come under fire from media personality Montel Williams for a satirical video in which he celebrates coming out of the closet with his faith.
The throwback video which Locke shared on Twitter on June 1, is an antithesis to the LGBT Pride focus for the month of June.
"Let me be real 'straight' about my 'coming out of the closet'. #Pride2017," Locke, lead pastor of Global Vision Bible Church in Mt. Juliet, Tennessee, wrote introducing the video on Twitter. He then lamented the celebration of people "coming out of the closet" before celebrating coming out with his faith.
"Years ago it was very strange terminology but now it's like a badge of heroism and honor. He or she came out of the closet. They're coming out of the closet and everybody applauds. Well ladies and gentlemen, let it be forever known from this day forward, that Greg Locke is officially coming out of the closet," he said opening and shutting a door behind him.
"I'm coming out about the fact that I'm not ashamed of the Gospel of Jesus Christ cause it's the power of God unto salvation. I'm coming out of the closet that I'm not ashamed of the word of God. It is the infallible, indescribable, incomparable book about all books from Genesis to Revelation, it is the word of God. I'm coming out of closet about the fact that I believe in one man, one woman for life. I believe in a biblical vow of marriage," he declared in the video.
He then urged Christians to stop hiding their faith as well.
"I'm a little tired of hearing they came out of the closet. They're so bold. Well, I think it's time Christians come out of the closet. We stand up and stand out. Speak up and speak out and don't back up, slack up or shut up until we've been taken up by the glory of God. So say what you will about this preacher and the ministry that I'm called to but I'm coming out of the closet ... I'm not ashamed of the Gospel of Jesus Christ," he said.
Lilly Egan, a writer for Yahoo Sports and ESPN Radio did not appreciate Locke's video and quickly accused him of promoting "hate crimes."
"You filmed this in 2015. Hilarious to see you're still congratulating yourself for promoting hate crimes, self-loathing and gel tips, Greg," Egan wrote in a response to the video.
"'Hate crimes'. Whatever. You seriously need to grow up. Disagreement is not discrimination and it's certainly not criminal," replied Locke.
The video was soon picked up by Williams, who also professes to be a Christian, and he chastised the pastor.
"You are an idiot devoid of any spiritual merit - perhaps you should be asking whether you want to be baked or broiled in hell?" Williams wrote in a tweet.
He then followed that up with another tweet suggesting that Locke might be in the closet about his sexuality as well.
"Yup people like @pastorlocke who are so obsessed with marginalizing #LGBT people are usually in the closet or into little boys," he said.
Locke responded to Williams' tweet suggesting that his response was classless: "Yeah, calling someone a pedophile because they don't support gay marriage. Real classy move."
Williams, however, doubled-down on his point, noting: "I'm saying a lot of you anti LGBT pseudo-Christian so called 'pastors' end up getting caught with little boys at Motel 6."
Williams and Locke kept going back and forth on Twitter and at one point, Locke suggested that it might be a good idea for him to appear on Williams' "failed program" to discuss his position.
"...I have no interest in having you on my program. I have better modern day Pharisees to choose from," Williams replied.
He further called Locke an a****** "pretending to be a pastor"
"Note to pseudo Christian claiming to be a 'pastor' tweeting me: I'm for #LGBT equality BECAUSE of my Christian faith, not in spite of it," he added.
The following day, Locke posted a video on Facebook, arguing that he suffered defamation of character for his conservative views.
"Since when does disagreement equal discrimination? Which leads to defamation of character. Are you kidding me?" Locke asked.
"Saying that I'm perhaps gay myself or that I like little boys because I stand against the homosexual lifestyle. Montel, I appreciate your service to this great nation so you of all people ought to know that we do have freedom of speech. We're not all going to agree. That doesn't make us enemies, that makes us human," he said.
Locke said he found out that Williams is a cannabis entrepreneur "which is code for he lays around and smokes dope everyday."
In a Business Insider profile in April, Williams, a retired Navy officer who suffers from multiple sclerosis, says he hasn't smoked cannabis in the last decade but he has been using it everyday for the last 17 years.
"I have dexterity problems. I can't roll a joint to save my life," said Williams, who prefers vaporizing more concentrated forms of cannabis.
Locke further suggested that Williams might "secretly want to be a white dude" going by the logic the former talk show host used to attack his sexuality.
"Montel, I love you bro, but seriously desperation does not look good on you. And by the way, as I go back through your tweets, and look at a lot of your interviews, you seem to have the vitriolic nonsense towards white people. So to use your same logic, maybe you secretly want to be a white dude," Locke ended.
LGBT advocates have been unhappy since the start of this month as President Donald Trump has refused to recognize June as a time to celebrate LGBT Pride. Unlike his predecessor, Barack Obama, Trump did not issue an official proclamation declaring June LGBT Pride Month. Meanwhile, his daughter, Ivanka, has tweeted her support for the LGBT community.