Tensions run high as more Christians are accused of blasphemy in Pakistan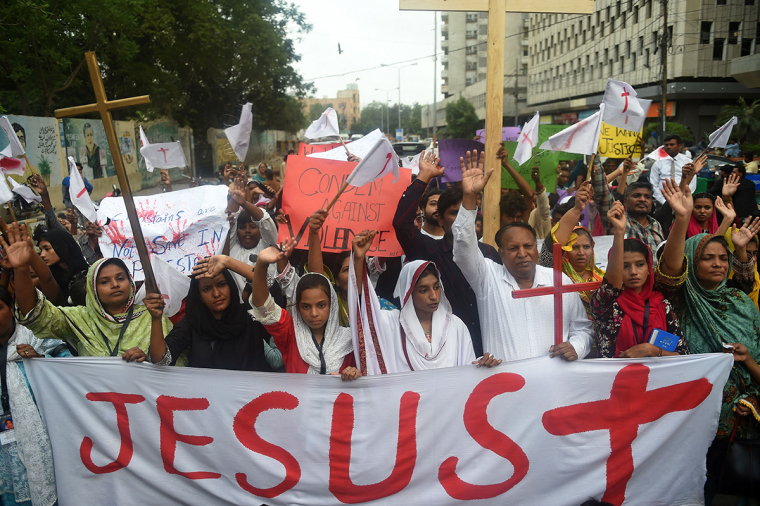 A Christian couple in Pakistan's Punjab Province have been charged with blasphemy, raising alarm about the misuse of the nation's contentious religious law, less than a month after mob attacks targeted over 80 Christian homes and 19 churches in the same province.
Shaukat Masih, 33, and his wife Kiran, 28, were arrested in Lahore's Chaudhry Colony on Saturday. 
Muhammad Tamoor filed a complaint, stating he found Quranic pages scattered near the couple's home. The police registered the case under Section 295-B of Pakistan's penal code, which prescribes life imprisonment for the accused.
The couple is in police custody, and tension is escalating in the area, said the Centre for Legal Aid, Assistance and Settlement, or CLAAS, in a statement to The Christian Post.
The couple's three children, ages 13, 9 and 7, are now in the care of another Christian family, according to Morning Star News. The 13-year-old has rickets, and the 9-year-old is mentally challenged.
Nasir Jameel, an advocate from the Living Water Society, said the children are extremely distressed due to their parents' absence. The lawyer is expected to file a petition for the couple's release on bail on Thursday.
Jameel said the couple was not present during the alleged incident.
An officer from the North Cantt police station was quoted as saying that the arrest was made to prevent potential violent protests by Muslims.
Nasir Saeed, director of CLAAS-UK, expressed serious concerns about the ongoing misuse of Pakistan's blasphemy law against Christians. He termed these incidents as part of a "gradual genocide" of Christians in Pakistan and emphasized the need for immediate action.
The government has set up Messaq centers to handle such cases, but their effectiveness is questionable, Saeed said, stressing the need for stricter legal measures against those propagating hate. He called for comprehensive investigations to prevent future attacks.
In a related development, the Supreme Court recently ordered a senior official to submit a copy of an agreement with the Islamic extremist political party Tehreek-e-Labbaik Pakistan, which was allegedly behind the Aug. 16 violence in Jaranwala city, to monitor blasphemy in Christian settlements.
Thousands of Muslims led violent riots, burning churches and vandalizing homes, in a Christian colony in the city of Jaranwala on Aug. 16. The unrest was ignited by claims that pages were torn from a Quran and blasphemous content was scribbled on them.
Police arrived at the scene about 10 hours later, residents and community leaders told Reuters at the time. The police denied that, saying they prevented even worse damage.
Usman Anwar, the police chief in Punjab province, was quoted as saying that the lack of intervention was aimed at avoiding loss of lives by not escalating tension.
Religion-fueled violence is not new to Pakistan.
In the past, blasphemy allegations have led to mobs killing accused individuals, including a Sri Lankan man in 2019 and a group burning down about 60 homes, resulting in six deaths in Punjab in 2009.
Rights groups have long criticized Pakistan's blasphemy laws, citing their misuse for personal gains. According to the Centre for Social Justice, over 2,000 people have been accused since 1987, with at least 88 killed on such allegations.
The ban against blasphemy, which carries no provision to punish a false accuser or a false witness, was expanded in the 1980s under military dictator General Zia-ul-Haq. According to The New York Times, the British government enacted the original laws in the late 19th century colonial era to keep people of different faiths from fighting each other.
In recent years, there have been several high-profile cases that have brought international attention to the issue.
In 2011, the governor of Pakistan's Punjab province, Salman Taseer, was assassinated by his bodyguard for speaking out against the blasphemy laws.
That same year, Asia Bibi, a Christian mother of five, was sentenced to death for alleged blasphemy, sparking international outrage, leading to her acquittal in 2018 after spending eight years on death row.
Her acquittal drew the ire of radical extremist groups, as many protested in the streets and threatened to kill the Supreme Court justices responsible for setting her free.
Pakistan's ranking has risen to No. 7 on Open Doors' 2023 World Watch List of the most challenging places to live as a Christian. This is an increase from the eighth position the previous year, indicating a worsening situation for Christians in the country.