Morgan Freeman Dead 2012: Death Hoax Says Actor Dies Alongside Eddie Murphy, Bill Cosby
Popular actor Morgan Freeman was reported as dead earlier this week, causing concern among thousands of his fans and moviegoers across the world. However, the September 2012 report has now been confirmed as a complete hoax and just the latest in a string of fake celebrity death reports.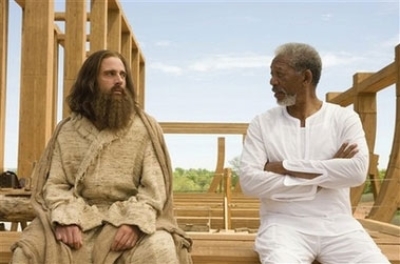 The fake death report was made by a specially created Facebook group earlier this week saying that the actor had passed away. Hundreds of fans immediately started writing their messages of condolence on the Facebook page, expressing their sadness that the talented actor was dead.
The Facebook group has been liked by more than 60,000 people, which is an extremely high amount compared to other similar group pages set up in the past to spark death rumors about other celebrities. Some are saying this shows Freeman's extreme popularity among fans across the globe.
Where as some trusting fans believed the post, others were immediately skeptical of the report, perhaps learning their lesson from the huge amount of fake death reports emerging about celebrities over recent months. Some pointed out that the news had not been carried on any major network, indicating that it was a fake report, as the death of an actor of Freeman's stature would be major news across networks.
Some fans have expressed anger at the fake report, saying it was reckless, distressing and hurtful to fans of the much loved actor. Others have seen the funny side, simply stating that Freeman could not die as he was God - a reference to Freeman's popular acting role as God in Hollywood blockbusters "Bruce Almighty" and "Evan Almighty."
No statement has been released by Freeman's representatives, and they might not feel it necessary to respond given the increasingly active nature of death hoax reports in recent months. Fake reports claiming famous celebrities have died have become increasingly popular over the past year, with Rihanna, Robert Pattinson, and Bill Cosby all becoming "victims" of death hoaxes in recent months.
Just last week Eddie Murphy was the victim of a death hoax sparked by Global Associated News.
The GAN has now become well known for starting fake death rumors about celebrities. Last week reporting on Eddie Murphy the site reported: "The actor & novice snowboarder was vacationing at the Zermatt ski resort in Zermatt, Switzerland with family and friends. Witnesses indicate that Eddie Murphy lost control of his snowboard and struck a tree at a high rate of speed."
However, a disclaimer was contained at the bottom of the GAN article explaining that the story was completely fake and fabricated for what it claimed was "entertainment purposes."
Morgan Freeman Interview On Live With Regis & Kelly