Morgan Freeman Has Hope for Donald Trump, Predicts He Will Be a Good President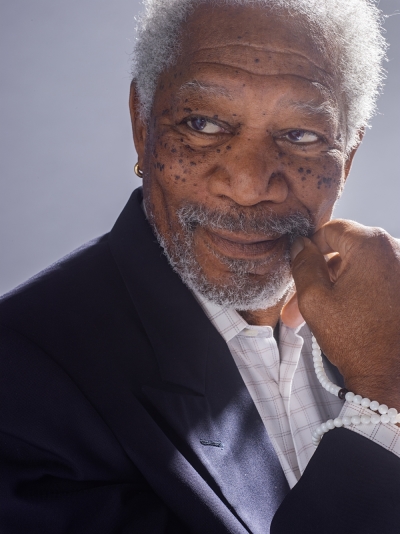 Actor Morgan Freeman recently shared in an interview for the February/March issue of AARP Magazine his hope that Donald Trump will be a good president.
According to multiple reports, Freeman held nothing back when talking about newly-elected President Trump in the upcoming issue of AARP.
The actor used his celebrity leverage to try and help Hillary Clinton get into the White House but not even Freeman's godlike voice, who narrated campaign ads for Clinton during the primary and general election, could change the outcome of the election. Freeman told the magazine that the American people will now just have to navigate through Trump's win.
"As for politics today, I supported Hillary in the election, and now it feels like we are jumping off a cliff," he said. "We just have to find out how we land. I'm not scared, though."
The 79-year-old is remaining hopeful mainly because of the type of person he believes Trump is.
"I'm holding out hope that Donald Trump has to be a good president," the "Ben-Hur" actor said. "He can't not be. What I see is a guy who will not lose."
Freeman's interview comes on the eve of the actor being honored with AARP's "Movies for Grownups Career Achievement Award."
The Memphis, Tennessee, native also just wrapped up the second season of National Geographic's "The Story of God with Morgan Freeman."
In the second installment of the show, Freeman meets with faith leaders, scientists and archaeologists to help him understand the different themes found in religion. He tackled topics such as "The Chosen One?" "Proof of God" and "Heaven and Hell."
In a recent interview with the Christian Post, Freeman said his quest for the show began because of his lack of knowledge that other religions acknowledged Jesus Christ.
"We were in Istanbul some years ago at the Hagia Sophia, a museum there that used to be a church and then a mosque. On the wall there, some of them had pictures of Christ, his resurrection and stuff like that," Freeman explained. "Lori (his production partner) asked the [tour guide] that when it was a mosque if they covered those paintings up, of Jesus? And he said, 'No because in Islam Jesus is a prophet.'"
He maintained that he and his partner had no idea that Jesus was a figure in Islam and that wet their appetites to learn more about it. After a few years of sitting on the information they then decided to do something about it.
"How come we didn't know stuff like that and why doesn't the world know stuff like that?" he pondered. "We eventually came up with the idea of doing a show that would air these kinds of information. 'Let's go see what we can find out about God in the rest of the world.'"
For more information on "The Story of God," visit National Geographic.
Follow Jeannie Law on Twitter:
@jlawcp