Morgan Freeman Meets Christian 9/11 Survivor to Examine Proof of God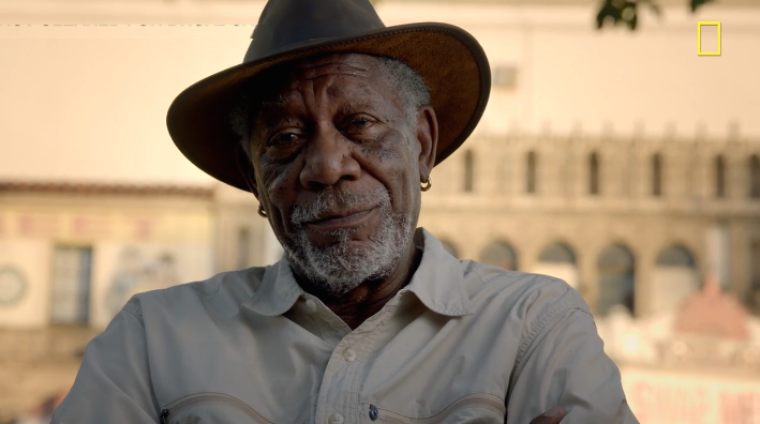 As the second season of National Geographic's "The Story of God with Morgan Freeman" comes to an end, the Academy Award-winning actor meets with Christian 9/11 survivor, Sujo John to find out whether or not there is proof of God.
Episode three, "Proof of God," takes place in New York. Freeman talks about life in the big city and the many distractions that come with it. He explained that unlike people's ancestors, individuals in this day and age spend most of their time looking down at computer screens rather than looking up at the stars.
"But even in our modern world we still share something with our ancestors, that is the desire to find proof that God exists. Have we cut God out of our modern lives? Or are there special moments when God breaks through and makes his presence known?" Freeman questions before introducing Sujo John.
John is a devout Christian who says God's presence was with him on Sept. 11, 2001 which is what ultimately saved his life.
John and his pregnant wife at the time, both worked in the Twin Towers. The indian native was on the 81st floor of the north tower on the day two planes crashed into the towers in a series of coordinated terrorist attacks by the Islamic terrorist group al-Qaeda. He managed to make it out alive.
He shared that as he frantically headed to the south tower to find his wife, the towers fell down.
"As the building is collapsing there is people with me and I'm huddled with them. I felt God speak to me in a very still voice, I felt God say, 'It's going to be ok,'" John tells Freeman.
The actor inquires, "You heard the voice of God? [He] spoke to you?"
John responds, "I did not hear God speak to me in an audible way but I felt God's inner voice speak to me and ask people to pray with me."
John prayed calling on the name of Jesus and they prayed with him as the ground shook and debris fell on them. He said he resigned to the fact that he was going to die because he was buried under the rumble. John, however, saw a red light and crawled out from under the debris to find that those he had just prayed with did not survive.
As he made it to the unrecognizable streets of Manhattan, his heart was broken at the fact that his pregnant wife was most likely dead. All of a sudden, he received a call on his phone and it was his wife. Her first question was, "Babe, are you alive?" To their relief, both of them survived.
"So we're looking at a miracle right here," a noticeably moved Freeman stated.
"Yes, and it was God that preserved and saved my life. It's proof that there is a God," John responded.
Freeman wondered why God didn't spare everyone on Sep. 11 but John explained that in his understanding of God, earthly death is apart of the process.
"Life on earth is such that no one is guaranteed today or tomorrow. Every human being on this earth will face death," John replied. "But here's what I know from my experience. When you walk with God and go through the storms of life you have this peace in the presence of God. So if you carry the presence of God, even if it's going to be death, it's going to be ok."
The brave 9/11 survivor has since left his job and dedicated his life to helping others as a missionary to India in the fight against sex trafficking.
At the close of the episode, Freeman reflects on John's experience, calling it "extraordinary."
"Sujo John's survival is extraordinary, some say it's miraculous. What's most remarkable to me is that Sujo felt the unmistakable presence of God even while death and destruction were all around him," Freeman concluded.
In season two of "The Story of God," Freeman met with faith leaders, scientists and archaeologists to help him understand the different themes found in religion, such as "The Chosen One?" "Proof of God" and "Heaven and Hell."
Season one of "The Story of God with Morgan Freeman" is now available on DVD.
For more information on the second series, visit National Geographic.