Majority of Americans Support Torturing Terrorists; Believe Attack on US Imminent, Poll Finds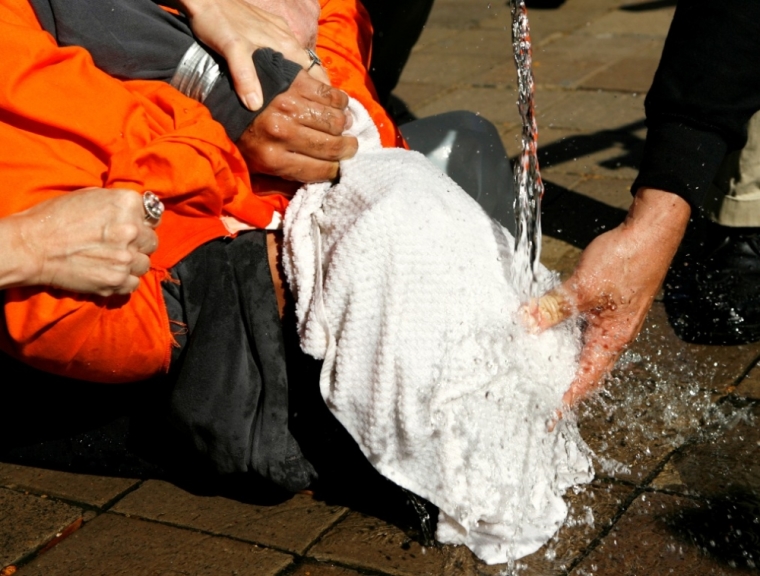 A majority of Americans support torture as a method of extracting information from suspected terrorists, with close to two-thirds of Americans fearful that a major attack is coming to U.S. soil, according to a Reuters/Ipsos poll released Wednesday.
The online survey, carried out between March 22-28, asked 1,976 people whether torture can be justified "against suspected terrorists to obtain information about terrorism." It found that 25 percent agreed that torture can "often" be justified, while 38 percent said it can "sometimes" be justified. Only 15 percent said torture should never be an option.
While Republicans were significantly more likely, at 82 percent, to say that torture can "often" or "sometimes" be justified, more than half of Democrats, or 53 percent, said the same.
Additionally, close to two-thirds of all respondents to the poll said they expect a terror attack to hit the U.S. within the next six months.
As much as 57 percent of respondents said they are very or somewhat concerned that an attack might happen at an airport, bus, or train station, and almost half, or 49 percent, had the same concerns about attending a public rally.
On the other hand of the scale, people said they feel the least amount of worry going to a place of worship, with 26 percent of respondents saying they are very or somewhat concerned, and only 23 percent responded that they fear an attack at their workplace.
The survey has a credibility interval of 2.5 percentage points for the entire group, and close to 4 percentage points for both Democrats and Republicans.
One of the leading political voices in America advocating for the use of torture against terrorists has been Republican presidential candidate Donald Trump, who has repeatedly called for the use of waterboarding interrogation methods.
On Monday, Trump responded to a yet to be confirmed report about the crucifixion of a Catholic priest at the hands of the Islamic State terror group on Good Friday, by posting on Facebook: "Terrible! And we cannot waterboard!?"
In the past, Trump has said he would bring back "a hell of a lot worse than waterboarding" if he becomes president, and declared: "Don't tell me it doesn't work — torture works. Okay, folks? Torture — you know, half these guys [say]: 'Torture doesn't work.' Believe me, it works. OK."
President Obama has spoken out against waterboarding, calling it a "mistake," back when it was used under the administration of George W. Bush.
Christians have offered various opinions on torture. While groups such as the National Association of Evangelicals, Southern Baptist Ethics & Religious Liberty Commission, and U.S. Conference of Catholic Bishops have all said they oppose torture, a December 2014 Washington Post poll found that 68 percent of self-identified white evangelicals believe torture is "often" or "somewhat" justified.
Reuters pointed out that numerous human rights organizations have stood up against Trump's support for torture, but also admitted that the latest survey did not ask respondents to define what they consider to be torture.
"The public right now is coping with a host of negative emotions," said Elizabeth Zechmeister, a Vanderbilt University professor.
"Fear, anger, general anxiety: (Trump) gives a certain credibility to these feelings," she added.