Most Americans Want the Bible in Public Schools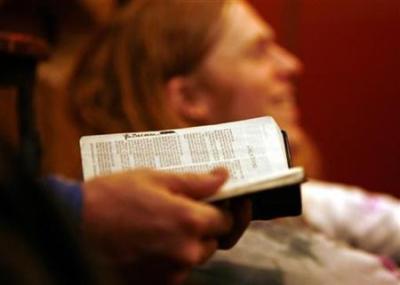 "The State of the Bible 2013" survey conducted by Barna Group on behalf of the American Bible Society has found that two-thirds of Americans think it is important for public schools to include in their curriculum values based on the Bible.
Not only do 66 percent of U.S. adults think teaching the Bible in schools is important, but a whopping 75 percent are of the opinion that teaching about the Bible in public schools could help reinforce moral principles — a viewpoint shared by the National Council on Bible Curriculum in Public Schools. In general, 77 percent of those surveyed believe the morals and values of the nation are on a decline, and that a decline in Biblical literacy was one of the main causes (32 percent) in addition to the media's negative influence (29 percent) and "corruption from corporate greed" (25 percent).
There were reservations about endorsing a Bible-based curriculum, however, as nearly half (45 percent) of those who support the move were concerned that such a curriculum could end up favoring one religion over another. Another 32 percent were concerned of such a move possibly causing offense; 11 percent worried about children losing time from learning other subjects; and 9 percent found no valid reason to teach the Bible in schools.
In a public statement on "The State of the Bible 2013" survey, American Bible Society President Doug Birdsall suggested that students could benefit greatly from "the best selling book in history."
"While our intention may be to protect students from the influence of 'other people's' religion, the effect has been that we are raising a generation ignorant about the most influential book of all time," said Birdsall.
"The Bible" miniseries producer Mark Burnett wholeheartedly agrees. Burnett, who has also successfully produced "Survivor" and "The Voice," suggested in a February appearance on "The O'Reilly Factor" that the Bible's stories were common knowledge outside of the United States.
"I really, really believe the Bible should be taught in public schools," said Burnett. "It is embarrassing for young Americans to go overseas in their mid-twenties after college and do business in Rio de Janeiro or Berlin or Paris and not know who David and Goliath are."
Downey and his wife, Roma Downey (who also starred in "The Bible" series), penned a joint opinion article for The Wall Street Journal further defending their view on teaching the Bible in public schools.
"The Bible has affected the world for centuries in innumerable ways, including art, literature, philosophy, government, philanthropy, education, social justice and humanitarianism," the pair wrote. "One would think that a text of such significance would be taught regularly in schools. Not so. That is because of the 'stumbling block' (the Bible again) that is posed by the powers that be in America."
"It's time to change that, for the sake of the nation's children," they added. "It's time to encourage, perhaps even mandate, the teaching of the Bible in public schools as a primary document of Western civilization."
While the Supreme Court in 1962 (Engel v. Vitale) and 1963 (School District of Abington Township, Pennsylvania v. Schempp) concluded that state-sponsored prayer and mandatory Bible reading in schools violates the First Amendment, students are not prevented from using their own personal time to practice both activities. In addition, voluntary Bible literature and history courses are legally allowed in Arizona, Oklahoma, Georgia, South Carolina, Tennessee and Texas.
Perhaps reflective of concerns some have expressed about public schools implementing the Bible into their curriculum, People for the American Way, a liberal progressive advocacy group, found that in Florida history classes, many teachers had been "teaching the Good Book wrong," and notably from a Protestant Fundamentalist Christian perspective.
"The State of the Bible 2013" survey was conducted between Jan. 16-22, 2013, via phone with 1,005 adult participants and between Jan. 17-23, 2013, via online surveys with 1,078 adults.
The Christian Post spoke exclusively in March with the American Bible Society president about the annual survey. Read "2013 State of the Bible: Americans Say Morality Is Declining, Cite Lack of Bible Reading" for more details about the survey.