Mother Whips the Fear of God into 12-Y-O Daughter for Posting Semi-Nude Photos on Facebook; Critics Debate Wisdom of Actions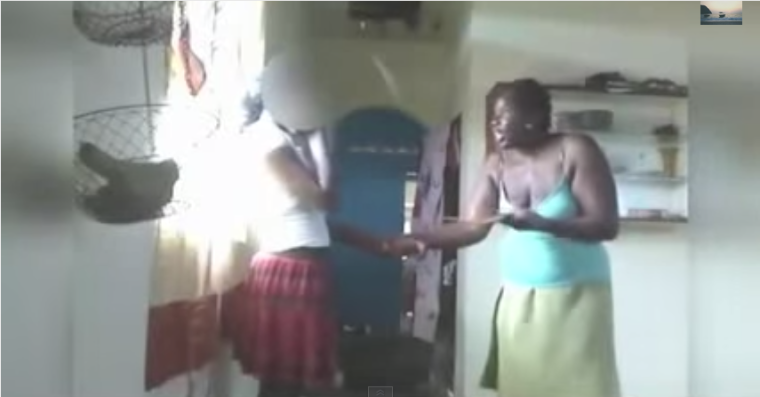 A Trinidadian mother captured in a controversial video serving up a stinging dose of corporal punishment on her 12-year-old daughter for posting semi-nude photos of herself on Facebook declared that she is willing to "go to jail" for her decision after it sparked an international debate online.
The video of the whipping was first posted to Facebook about two weeks ago showing the mother of four, Helen Bartlett, of Point Fortin in Trinidad, whipping her young daughter while warning her in colorful language that her behavior online was only attracting predators and she had no plans to have a 12-year-old shame her.
"I believe she has to have shame that way. I don't want her to be 14 or 15 and she comes home pregnant and I wake up and don't find her in her bed. And I find her in Toco dead," said Bartlett in an interview with the Trinidad Express after the video lit up the Internet.
"I stand firmly by my decision. I will go to jail for it. I know people are saying the authorities should charge me for abuse. She is not supposed to be putting her underwear on Facebook," the mother noted.
She explained that she had tried talking and other methods of intervention to get her "problem child" daughter to behave appropriately but nothing worked until she decided to whip her.
The young girl had been "acting out" since her father, who is a local policeman, stepped out of her life. According to Bartlett, she only decided to administer the whipping after she discovered her daughter was arranging to have sex with a boy and lied to her about it.
"She received a text message. I got a text message with she [sic] and a young man who was convincing her to have sex with him. The boy is around her age. I told her once school open you will get a 'cut skin' (vernacular for whipping). I can't deal with the lies," she said.
She said she then started investigating her daughter's Facebook profile and discovered she was making "seductive poses" online.
"You in a vest and your underwear! What statement is that? And for a 12-year-old child?" she asked.
Clips of the six-minute video of the whipping have attracted divided commentary. Some praised the mother for her actions while others criticized her for it.
"Wow this mother clearly thinks that primitive methods of parenting are the right way to educate her children. Her beating her daughter does not 'save' her or 'prevent' anything from happening to her: posting semi naked pictures on facebook do not cause rape. Rapists cause rape. You can blame it on the victims all you want, but at the end of the day nobody asks for rape," wrote Megan Carrera in a clip of the video on YouTube.
"The mom should be looking into why it is her daughter feels the need to post those pictures. An article even stated that the girl's mom KNEW she had low self-esteem issues. Seriously people, beating is just a cover up and does nothing to get to the core of the issue. And the mom is a f**king idiot if she thinks that she is doing the right thing," she added.
Joshua George however disagreed.
"I don't see nothing wrong," he wrote.
Bartlett explained that everyone concerned about the well-being of her daughter should rest assured that she loves her children and they love her. Her daughter is also doing well and has seen the error of her ways.
"She is coping unexpectedly well. She said, 'I did not mean to put you through this stress.' She has sense. She apologized. And she is coping well. She is spiritually grounded. I don't know where that (indecent exposure) came from," said Bartlett.
The whipped 12-year-old and her older sister also came out in defense of their mother in a video posted on YouTube.
"I am very sorry for bringing shame on you and the family. I know you love me dearly. And I love you dearly, too," said the 12-year-old in the video who then warned other young girls not to act the way she did.
"You watch this video and try to make it better. You are a special piece of God's puzzle. And don't let what happen to me happen to you also," she advised. And to critics who believe she might commit suicide because of her mother's whipping, she replied: "I love myself too much."