Movement Toward Dalit Emancipation in India Can't Be Halted, Bishop D'Souza Says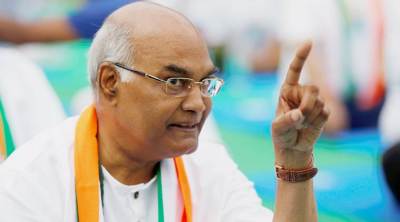 The issue of India's discriminatory Hindu caste system in which hundreds of millions of people are oppressed second-class citizens is now "occupying center space" in India's national politics as two politicians from India's lowest caste have been nominated to be the nation's president.
Bishop Joseph D'Souza, moderating bishop of the Good Shepherd Church of India and president of the All India Christian Council, has praised the fact that two politicians who were born into India's poor and deprived "Dalit" caste will face off in the presidential election in July.
Earlier this month, India Prime Minister Narendra Modi and Amit Shah, the head of the Bharatiya Janata Party (BJP), nominated Bihar governor and Dalit leader Ram Nath Kovind to be the National Democratic Alliance's presidential candidate.
In a tweet, Modi praised the fact that Kovind is a farmer's son and comes from a "humble background," adding that he "devoted his life to public service & worked for poor & marginalised."
"My thoughts are it doesn't matter which party it is who nominates a Dalit, the fact that a Dalit has been nominated [to be] president means that is major development going on and the Dalit issue is becoming more national and it is occupying center space in national politics," D'Souza, an advocate for Dalit rights, told The Christian Post in an interview this week.
In response to the nomination of Kovind, 17 opposition parties have backed Meira Kumar, the daughter of a prominent Dalit leader and first woman speaker of India's lower legislative house.
"There is a storm that two Dalits are pitted against each other for the President's post and the truth of our society is coming out," Kumar said, according to New Delhi Television. "Whenever similar elections have happened in the past, there were candidates who fought but their religion or caste was never discussed. But today it has been highlighted."
D'Souza told CP that he agrees that the nomination of Kumar can be seen as a counter move to the NDA's nomination of Kovind, who is expected to win because the opposition doesn't have the numbers to win the vote in parliament.
"Who would have ever imagined that in 2017, three years after Modi came to power that for this important position, the BJP would announce a Dalit and the opposition would have no option but to announce a Dalit," D'Souza told CP.
"The opposition does not have the numbers. The opposition would have been stronger if they independently came up with a Dalit first. The opposition including the Congress [Party] has always been shy of talking about the caste issue and the Dalit issue. They speak the language but they don't want to be seen as upfront and engaging in Caste politics."
According to the International Dalit Solidarity Network, 2011 census numbers show that there are over 200 million Hindu, Sikh and Buddhist Dalits in India. However, the total number of Dalits is actually much higher because Christian and Muslim Dalits are not included in those statistics.
"According to some estimates, there are 15-20 million Christian Dalits in India, while the number of Muslim Dalits may be as high as 100 million or more," the organization explains on its website. "Were these figures to be confirmed, the number of Dalits in India could exceed 300 million – or a quarter of the country's population of 1.2 billion people."
Dalits often face violence and discrimination because of the caste they were born into. There have been a number of instances in the past few years that have pushed the issue into a national spotlight and led to massive protests and demonstrations, D'Souza said.
One such incident that forced national discussion on the issue was the 2016 suicide of Rohith Vemula, a Dalit advocate and Ph.D student at the University of Hyderabad who committed suicide. His death sparked protests across the country.
Last year, four Dalits were publicly stripped and beaten with sticks for simply skinning a dead cow, an animal that some Hindus believe to be sacred.
"Suddenly, India is in the struggle of imposing a food culture [beef ban] across the board. So there has been severe reaction to that," D'Souza explained. "Basically, it has become a very divisive issue. On one side, you have the Dalits, the tribals, lower castes and a division in Hindu society itself."
Although two Dalits have been nominated to be president, D'Souza stressed that the "minority upper caste Hindu population has to face the ideological or spiritual issue — what is the value of the life of a human being versus the value of a cow."
Although K. R. Narayanan became India's first Dalit president in 1997, D'Souza stressed that times are different now and he is hopeful that whichever Dalit is elected in July can have an even greater impact.
"BJP in the past has attacked caste politics. But this time, Modi and Shah seem totally upfront and they are not even giving an apology for why caste has been brought into the presidential elections," the bishop said.
Although there is upper caste hostility toward caste reform and a denial that a problem exists, D'Souza doesn't believe that the forward movement of caste reform can be halted at this point.
"The problem for India is any steps like this will be met by straightforward upper-caste hostility," he explained. "The regression is really because there is movement forward. When there is movement forward, those who are insecure and worried about where this is all heading are going to strike back and that's what has happened. So there has been a regression. But I do not honestly believe that whatever happens, the forward movement of the Dalit emancipation now can be halted."