Muslim Mob Demand Christian Teen's Lynching Over Blasphemy Accusation (Video)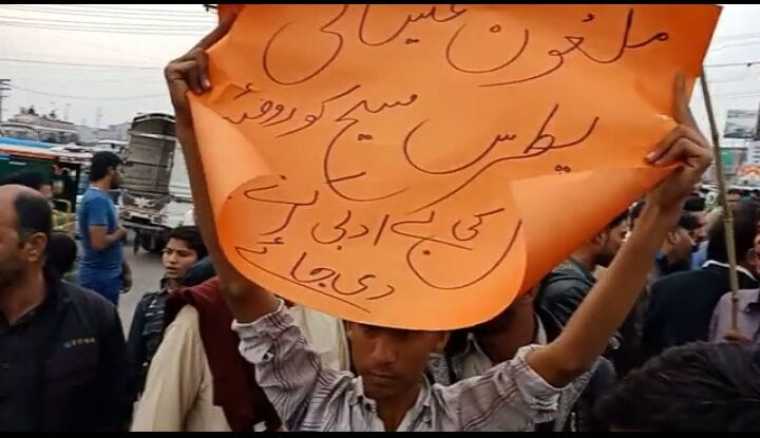 A Muslim mob is calling for the lynching of a Christian teenager in Pakistan who's been accused of posting blasphemous content on Facebook, according to a London-based Christian humanitarian group.
The British Pakistani Christian Association reports that 17-year-old Patras Masih in Lahore is facing deadly accusations of blasphemy (insulting Islam or its prophet) because someone posted blasphemous images to his Facebook account using his lost cellphone.
The charity reports that hundreds gathered outside Masih's home in the Dhair a village in Shahdara town around 5 p.m. local time Monday and called for him to be executed and even beheaded.
According to BPCA, one man held up a sign that reads: "Wicked Christian Patras should be punished for committing blasphemy!" BPCA posted a video of the mob gathering.
The crowd grew so large that police reportedly had to set up roadblocks as crowd-control measures to prevent more people from entering Shahdara town.
BPCA, which has an officer in the area, expressed concern that Christian homes in the neighborhood were in danger of being set on fire.
"The situation may yet get worse especially due to the growing number of incensed Muslims baying for the blood of Christians as they seek revenge for the presumed insult to their faith," BPCA Chairman Wilson Chowdhry said in a statement. "At the moment, all Christians in the area are under imminent threat of violence and many report they are hiding in their homes."
"Even a growing police presence does not seem to be restoring calm and every Christian across Pakistan is praying for an end to the madness," he added.
An update from BPCA could not immediately be provided before press time.
"This story illustrates the daily danger faced by Pak-Christians and the speed at which a lynch mob can precipitate even prior to charges being laid," Chowdhry said. "Even the normal event of losing one's mobile [phone] is cause for great fear among vulnerable minorities. It is hard to imagine how anyone could use the opportunity of a lost phone to do this to another human being. But this is Pakistan and crimes like this are all too common."
BPCA has offered to provide support to Masih and his family by providing shelter and legal assistance. BPCA exists to support persecuted Christian families in Pakistan and throughout Asia and it is accepting online donations.
Pakistan ranks as the fifth-worst country in the world when it comes to Christian persecution, according to Open Doors USA's 2018 World Watch List.
Not only is blasphemy a crime punishable by death under the Pakistan penal code, blasphemy allegations have in the past led to Pakistani Christians being killed by enraged Muslim mobs.
Last year, a Christian college student in Mardan was dragged out of his room and killed by an angry mob after he was accused of blasphemy.
In November 2014, a married Christian couple was burned alive by a mob in a brick kiln after they were accused of blasphemy.
In fact, it doesn't even take blasphemy allegations for Christians to be targeted by mob violence.
Last August, a 17-year-old Christian student was beaten and killed by his Muslim classmates on his fourth day at the MC Model Boys Government High School in the Vehari area in Punjab. His parents say that he was targeted because of his faith in Christ.
"My son was a kind-hearted, hard-working and affable boy," the mother was quoted as saying. "He has always been loved by teachers and pupils alike and shared great sorrow that he was being targeted by students at his new school because of his faith."