20K displaced as Myanmar airstrikes target ethnic Karen civilians, destroy homes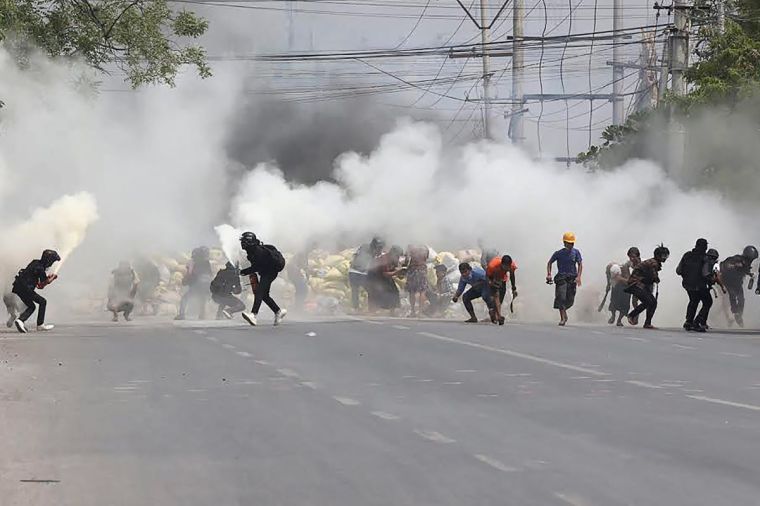 At least 20,000 people from Myanmar's Karen ethnic group, many of whom are Christian, have been displaced due to continual airstrikes that began on March 27, two months after the military coup. A rights organization reports that military forces are also bombarding civilians in their homes. 
Airstrikes by the Myanmar army have targeted civilians, schools and medical clinics in northern Karen state, according to the Free Burma Rangers, an organization that provides humanitarian services in war-torn areas.
In an April 5 report, FBR noted that at least 14 people were killed and 40 more were injured on April 1, including women and children, by airstrikes in Dwe Lo Township of Karen state's Papun district.
Many others have been killed and wounded in the ethnic minority areas during the campaign. Homes and stores have been destroyed.
In a report published Wednesday, FBR noted that the Burma army "is attacking people in their homes" throughout the Papun district.
The organization shared the names and pictures of two villagers killed in different attacks in the last several days. 
Last Friday, the Burmese army shot three mortars into Ler Day Kaw Village in Butho Township. According to the report, one round killed 55-year-old mother of six Naw Mu Toh and injured her husband, Saw Mya Aung. 
FBR reports that on March 30, military aircraft dropped nine bombs in Mae Kaw Law Village. Seventy-six-year-old Saw Pah Lo Poe was killed by one of the airstrikes. 
On Feb. 1, the military detained civilian leader Aung San Suu Kyi in response to her National League for Democracy party's landslide victory in last year's election. The coup makes an army general the de-facto leader of the country. Protests against the coup have been met with force as the military has reportedly killed hundreds since Feb. 1.
Christian Solidarity Worldwide, a United Kingdom-based advocacy organization, stated that while the Myanmar military has reportedly declared a ceasefire, displaced civilians fear this is only a delaying tactic and remain in hiding.
"The army has not only totally broken a ceasefire agreed almost a decade ago, but it is using such force that it is creating a humanitarian crisis on its borders at the same time as using lethal force to crackdown on protests in the cities and towns," Benedict Rogers, CSW's senior analyst for East Asia, said. 
"[The military] is perpetrating grave human rights violations that may amount to war crimes and crimes against humanity, and the international community must act urgently to prevent this escalating further. We need more robust, coordinated, targeted sanctions against the military and its enterprises, and a global arms embargo. Failure to act urgently and with every tool available will result in a humanitarian disaster in the country."
Myanmar's ethnic minorities, including Christians, live in the various conflict zones across the country's borders with Thailand, China and India. 
Last month, the United States imposed sanctions and restricted American dealings with two giant holding companies connected to the Myanmar military. 
In a statement, Secretary of State Antony Blinken said that the Burmese military has "taken increasingly disturbing actions aimed at their own citizens." The U.K. announced similar actions.
On March 27, the Myanmar army killed at least 114 people who were protesting against the coup. 
Nearly 600 people have been killed by the military since the Feb. 1 coup, according to the Assistance Association for Political Prisoners. The organization reports that there are over 2,847 people under detention as of Wednesday. 
Christians make up just over 7% of the majority-Buddhist nation. Formerly known as Burma, the country is ranked No. 18 on Open Doors USA's 2021 World Watch List of 50 countries where Christians face the most severe persecution. 
Rights groups have warned that the military's consolidation of power will only make things worse for religious minorities and have urged the international community to take action against the abuses being perpetrated by the military regime.
"The military is notorious for its relations with the ultranationalist ultra-Buddhist group the Ma Ba Tha," International Christian Concern's Southeast Asia Regional Manager Gina Goh previously said. "The military together with Ma Ba Tha has targeted the Muslims in the country, but they also go after Christians. Once they get a hold of the power, they might resort to things they were doing before they passed the power to the civilian government. They kill. They rape minority Christians."