Naghmeh Abedini: Christians Pursuing Fame Like the World Despite 'Enemies of God' Warning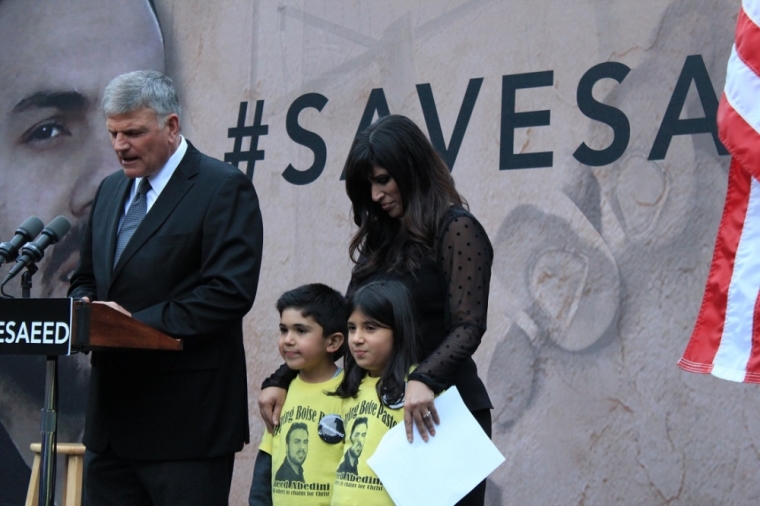 Naghmeh Abedini, the wife of imprisoned American Pastor Saeed Abedini, has shared that in her years of traveling the country raising awareness for persecution, she has come to see major problems in the body of Christ that stand against serious warnings by God.
"My travels over the last three years have opened my eyes to the condition that the body of Christ is in. Pursuing fame, wealth and 'followers/numbers' has become normal in the Christian world. We are becoming like the world and we are totally OK with that. Yet the Scripture has serious warnings even calling us ENEMIES OF GOD," Abedini wrote on Sunday during one of her daily Facebook updates, as part of a three-week fast she has encouraged other Christians to join her in.
"May this time of prayer and fasting bring us to our knees. May it be a time of repentance and being raw before God admitting our adultery and enmity toward God. Revival starts with us admitting our true condition and turning back to God," she added, and posted passages on the subject as found in 1 John 2:15-16 and James 4:2-5.
The Boise mother of two has spent a good portion of the last three years traveling around the country raising awareness for Christian persecution and the imprisonment of her husband in Iran.
Pastor Abedini has spent over three years in an Iranian prison despite international pressure for his release. Groups such as the American Center for Law and Justice have said that the American citizen is being punished by the Iranian regime for his Christian faith.
Naghmeh Abedini has pleaded before Congress to do more to expedite her husband's release, and has also spoken out about the many other Christians held in Iranian prisons.
She announced that she will be undergoing a three-week fast at the start of the New Year, focusing on Scripture and looking to "draw closer to the heart of God."
Abedini revealed her Christian faith cost her dearly early on in life, when she was persecuted by her own Muslim family.
"When I became a follower of Jesus at the age of 9, I had to let go of all I had been taught as a Muslim despite the cost and the rejection and persecution that came from my own family," she wrote.
In a later post about her fast on Facebook, Abedini shared that one of her main hopes for the New Year is that 'mediocre Chieftains' grow into a greater intimacy with God.
"One of the things that I have constantly prayed throughout my Christian walk has been that I would live a life of faith," she said.
"Many times during challenging times when my faith has been tested and I have gone through times of refining I have cried out to God that I would either press on and live a life of faith or I would walk away. I have never been happy being in the middle."