Nancy Pelosi Says Immigrant Children Should Be Treated Like Baby Jesus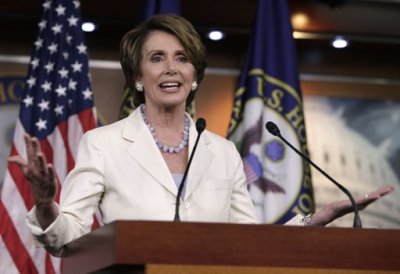 House Minority Leader Nancy Pelosi said in a recent interview that children immigrating to the U.S. should be treated in a similar way to "baby Jesus," who was a "refugee from violence."
The democratic congressional leader from California made her comments on the Tuesday airing of MSNBC's "Morning Joe," during which she implored Americans to view the current influx of unaccompanied immigrant children to the U.S. as a humanitarian issue, instead of politicizing the crisis.
"In Washington, I see an embrace of the idea that this is a humanitarian crisis by people who are not politicizing the issue. What we need to do is have the supplemental that gives us the resources to meet the humanitarian needs, to do the border control, but also to have the judicial piece so that these children have representation and judges to hear their cases. Those who have a right to stay, whether it's refugee status or asylum, should stay," Pelosi said, adding that President Obama is scheduled to meet with Central American leaders later this week to discuss the current immigration crisis in the U.S.
"I always reference the [Conference of Catholic Bishops] statement in which they say baby Jesus was a refugee from violence. Let us not turn away from these children and send them back into a burning building. That's the bishops. So we have to do this in a way that honors our values but also protects our border and does so in a way that the American people understand more clearly."
Pelosi has previously urged Americans to view the immigration "crisis" as a humanitarian "opportunity."
"This crisis that some call a crisis, we have to view as an opportunity," Pelosi said while speaking at the Texas-Mexico border earlier this year. "If you believe as we do that every child, every person has a spark of divinity in them, and is therefore worthy of respect – what we saw in those rooms was [a] dazzling, sparkling, array of God's children, worthy of respect," the house minority leader added, according to Fox News.
Pelosi's recent comments come shortly after Texas' Governor Rick Perry announced his plan to deploy up to 1,000 National Guard troops on the Texas-U.S. border to help deter members of Mexican drug cartels from crossing over the border, as well as refer illegal immigrants to the Texas Department of Public Safety.
"I will not stand idly by while our citizens are under assault and little children from Central America are detained in squalor. We are too good of a country," the governor said in a statement.
As CBS reports, the Obama administration is still struggling to deal with the 5,000 unaccompanied minors who have crossed into the U.S. from Central America this past year. The administration has requested congress to appropriate $3.7 billion in funds to deal with the immigration influx.