Pope Francis Says Immigrant Children Should Be 'Welcomed and Protected'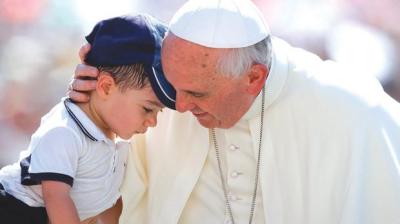 Pope Francis recently spoke on the topic of immigration at a conference in Mexico City, arguing that immigrant children crossing the U.S. border should be "welcomed and protected."
Francis made his statements in a letter to the Mexico-Holy See Colloquium on Migration and Development conference in Mexico City on Monday, saying that immigration is a fact of modern life and those accepting immigrants into their country should treat the process as a humanitarian effort.
"I must call attention to the tens of thousands of children who migrate alone, unaccompanied, to escape poverty and violence," Francis wrote in the letter, adding that many times these children cross the border "in extreme conditions, in a hopeful search that most of the time is in vain."
"This humanitarian emergency requires, as a first urgent measure, these children be welcomed and protected," Francis continued. "These measures, however, will not be sufficient, unless they are accompanied by policies that inform people about the dangers of such a journey and, above all, that promote development in their countries of origin."
Francis made his comments as the U.S. currently handles an influx of immigrants from South and Central American countries who are crossing into the U.S. primarily to Texas. According to the Wall Street Journal, since October, over 57,000 unaccompanied minors crossing over from impoverished Latin American countries, predominately Honduras, Guatemala and El Salvador, have been put in the custody of the U.S. Immigration office.
Other Catholic leaders, especially in the U.S. states bordering Mexico, have expressed the importance of addressing the immigration influx in a compassionate and effective way. The Most. Rev. Gustavo Garcia-Siller, archbishop of San Antonio, Texas, said in an interview last month that the influx of immigrant children is an "emergency situation," encouraging his fellow Catholics to volunteer their help where they can to aid immigrant children.
"[…] We want to help with as many as we can," Garcia-Siller told Fox News in the recent interview.
Health and Human Services Secretary Silvia Matthews Burwell recently said that the goal of the Obama administration is to ensure immigrant children are placed in safe and responsible homes.
"We want to make sure they're placed in a safe and supportive home or placement," Burwell said, "but also, it should be somebody that is legal and somebody that will be responsible to see that they show up for the hearing."