Natalie Grant highlights horrors of sex trafficking, saw girl in India trapped in cage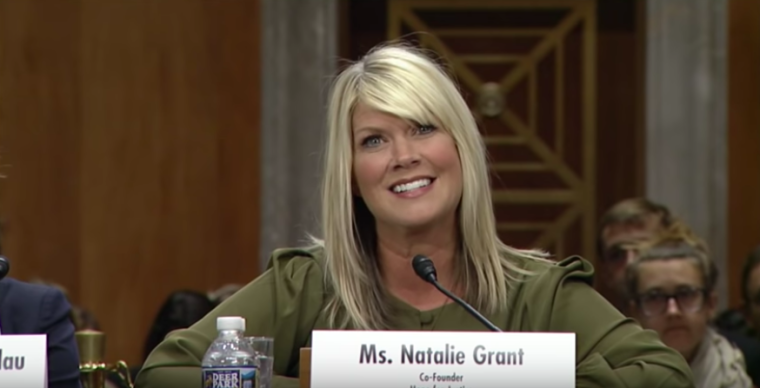 CCM artist Natalie Grant has testified about the horrors of modern-day sex slavery, revealing that during a trip to India she witnessed children being sold on the streets and saw a 6-year-old girl trapped in a cage.
During a powerful testimony delivered before the Senate Committee on Foreign Relations on Nov. 28, Grant admitted she didn't know sex slavery still existed until she watched an episode of "Law & Order."
"I was deeply troubled that I had never heard of this issue before. I was deeply troubled that people in the church, we're not talking about the 'least of these,' which they talk about so often, but that were being ravaged in this way," she said.
A short time later, Grant, who appeared as a witness in the hearing as the co-founder of the nonprofit organization Hope For Justice, flew to India along with her husband.
The singer's voice broke as she recalled the atrocities she witnessed in the country's red light district.
"I met twin 5-year-old girls who had to have reconstructive surgery to their tiny little bodies," she said. "I saw a 6-year-old girl in a cage looking at me through the bars of a cage. She wasn't screaming, she wasn't asking for anyone to bring her freedom. It was almost as if she was resigned to the fact that this was her reality."
Thinking Grant's husband was a potential buyer, the brothel owners allowed the couple to tour the facility.
"And as we walked through these tiny little cubicles, some with mattresses on the floor, some with beds, I will never forget walking past one that had a rope tied to the end of a bedpost," Grant said. "And I made the mistake of asking why the rope was there. And the gentleman we were with said, 'That's because the girl in this room is 15 years old. She has an 18-month-old child. There's no child care, so they tethered their children to the end of the bed while they're forced to perform their sexual acts.'"
That experience "wrecked" her for life, Grant said, adding, "I knew that in that moment, this issue demanded my attention and my commitment."
The singer founded an organization called Abolition International which sought to raise enough money to build an aftercare facility for women with children in India.
"That's exactly what we did," she said.
But after learning about the issue in a deeper way, Grant decided to join forces with another group to form a worldwide organization dedicated to fighting human trafficking. Today, Hope For Justice, which helped over 37,000 children last year alone, has grown to include 22 locations with eight offices spanning four continents.
"I was not a mother yet, but now I'm a mother to three daughters and now this issue is more important to me than ever before," Grant said, adding that "every single one of us" can do something to fight modern-day slavery.
"My daughters are living in a world where slavery still exists, where someone's daughters, someone's sisters, someone's niece, someone's granddaughter is being ravaged day in and day out," Grant said during her testimony.
"No matter who you are, no matter where you're from, no matter what your circle of influence, whether you have a platform or whether you are just serving your family, every single one of us can do something to make a difference," she charged.
The "King of the World" singer said she has committed her life to Proverbs 31:8 which says, "Speak up for those who cannot speak for themselves, ensure justice for those being crushed."
"I have seen those who are crushed and I say that together, we must do whatever it takes to give them justice," she concluded.
Grant was invited to speak by U.S. Senator Bob Corker, R-Tenn., who in 2015 proposed a bipartisan initiative to end slavery worldwide that became law in 2016, and now operates as the Global Fund to End Modern Slavery (GFEMS).
In 2017, the National Center for Missing & Exploited Children estimated that one in seven runaways reported to them were likely sex trafficking victims. Globally, the International Labor Organization estimates that there are 4.8 million people trapped in forced sexual exploitation.