National Guard Lets Chaplains Continue Praying at Ceremonies Despite Atheist Group's Protest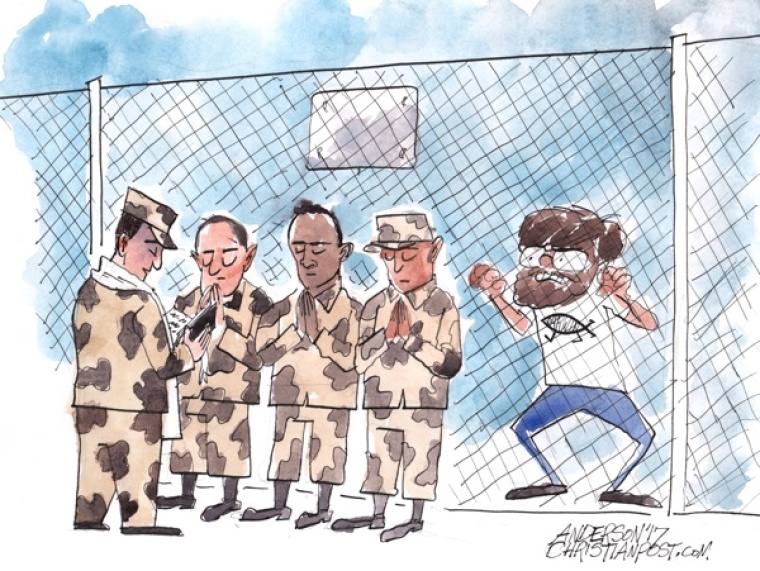 The New Hampshire Air National Guard has no plans to respond to an atheist group's demands that it prohibit chaplains from offering invocations at official ceremonies and has vowed to continue letting chaplains pray at on-base events.
As previously reported, the Wisconsin-based Freedom From Religion Foundation, which advocates for a strict separation of church and state, sent a letter last month to leadership at Pease Air National Guard Base in Portsmouth on behalf of guardsmen who complained that official ceremonies "regularly include invocations led by a chaplain."
FFRF attorney Sam Grover argued in the letter that allowing chaplains to pray at official ceremonies was a violation of the Establishment Clause of the First Amendment to the United States Constitution. Grover demanded that base leadership end the practice of chaplain prayers at official ceremonies and on-base events and requested that FFRF be informed in writing about the actions that will be taken in response to the letter.
However, the leadership at Pease Air National Guard Base does not plan to respond to FFRF's letter. A spokesperson for the New Hampshire National Guard, which oversees the state's Air National Guard and Army National Guard, told the NH Journal last week that no "formal complaints" from airmen have been received by the base regarding the matter.
"We don't plan on responding to the FFRF," spokesperson Greg Heilshorn said. "We haven't had any formal complaints from our airmen internally regarding any concerns with prayers being said at various ceremonies."
Heilshorn added that the base will continue to with its tradition of chaplain-led prayers.
"We will continue as we've done before," he asserted. "It's our tradition. We believe our chaplains...[are a] vital part of our organization."
Heilshorn's response comes after the First Liberty Institute, a Texas-based law firm dedicated to defending religious liberty, sent its own letter to the base's commanding officer, Col. James P. Ryan, last week on behalf of the Chaplain Alliance for Religious Freedom.
The letter asserted that FFRF's demands "appear to be based on the flawed notion that military chaplains cannot offer invocations at ANG functions."
"The FFRF's position and legal argument are incorrect," First Liberty Institute Senior Counsel Mike Berry explained in the letter. "Federal law, military regulations, and court precedents belie the FFRF's specious claims."
"Uniformed chaplains are clearly permitted, indeed protected, when they offer invocations at military functions."
According to Heilshorn, prayer is a "traditional part" of various National Guard ceremonies, such as promotion, deployment and retirement ceremonies. However, he stated that they are usually nondenominational prayers and no one is required to participate in them.
"Typically they'll offer a prayer in the beginning [of a ceremony] and then a closing prayer at the end of the ceremony," Heilshorn explained. "There is no forced message in them. Typically it's open to all religions. If you do not subscribe to a specific religion, you are free to not participate, whether you bow your head or not, or just prefer to stand in formation."
In response to the news that the leadership at Pease Air National Guard Base do not plan to respond to his letter, Grover told the NH Journal that a complaint letter from his organization should be taken "just as seriously" as complaints from actual guardsmen.
"Now that the base has been made aware that there are guardsmen who object to this practice, it is all the more important that they take this issue seriously," Grover argued. "I hope they would take a complaint letter from FFRF just as seriously as any formal complaint internally."
Grover added that FFRF will confer with the guardsmen whom he represented in his Feb. 6 letter to review "other legal remedies we can pursue."
In a statement shared with The Christian Post, Berry praised the New Hampshire National Guard's decision not to prevent chaplains from praying at ceremonies and assured that it is "perfectly constitutional."
"We're very pleased to see the New Hampshire Air National Guard do the right thing and continue their tradition, as the law clearly allows," Berry said. "It is perfectly constitutional to offer invocations at military events and service members have every right to exercise their faith under the First Amendment."