Navy Chaplain Who Fought to Pray In Jesus' Name, Now Newly Elected as Colorado House Rep Described by Left as 'Religious Right Activist'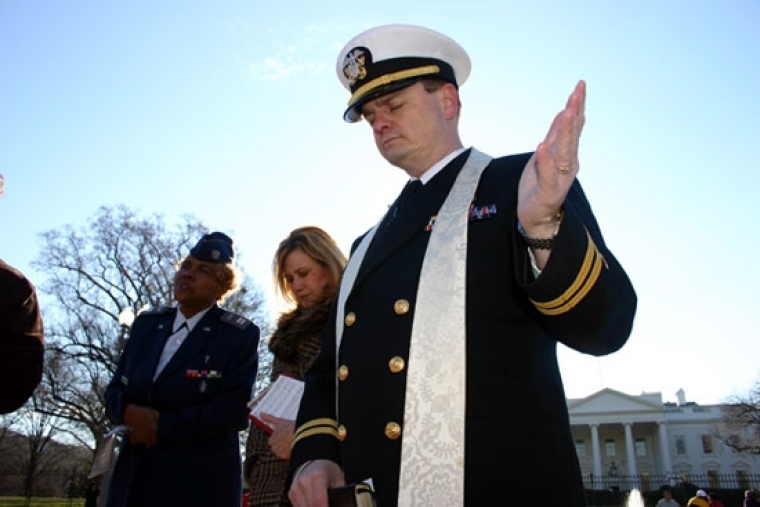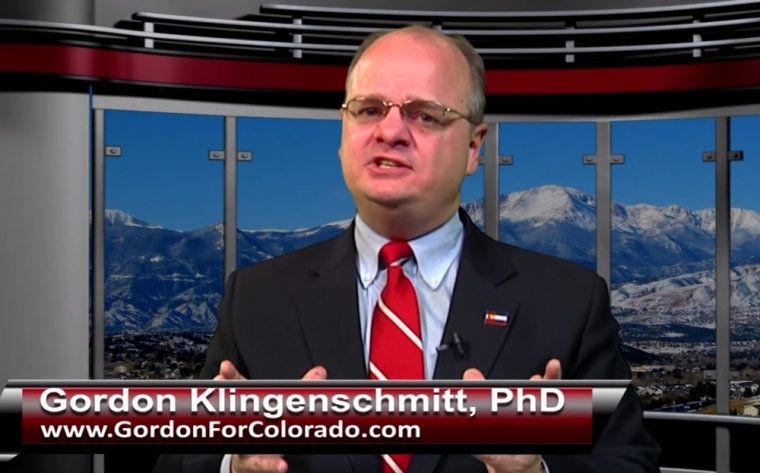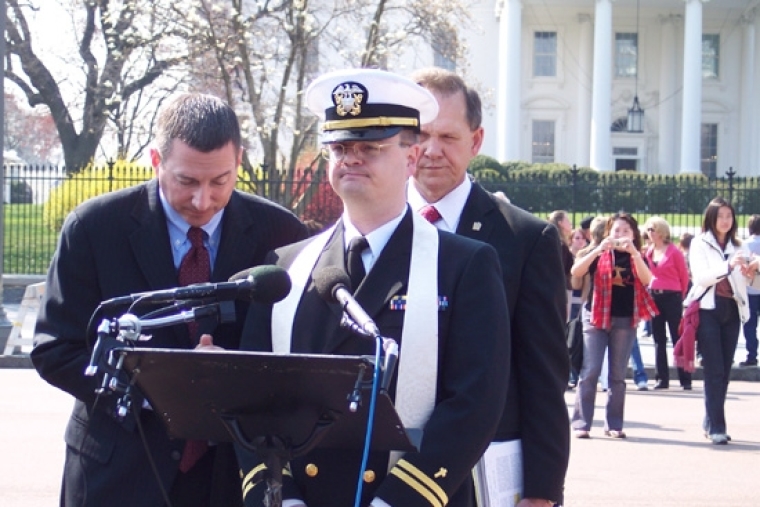 View Photos
Gordon "Dr. Chaps" Klingenschmitt, the Navy chaplain discharged for praying in Jesus' name while in uniform, and who was elected to the Colorado State House last Tuesday, is already creating a bit of a stir primarily among liberals.
Klingenschmitt beat out his Democratic challenger, retired school teacher Lois Fornander with 70 percent of the vote in Colorado's District 15 where he says Republicans make up about 43% all registered voters.
In a statement celebrating his win, Klingenschmitt vowed to fight for residents' First Amendment rights regardless of their background. He said "I owe a great debt to our volunteers and donors, and I am humbled by the voters' support. As perhaps the only ordained minister elected to our state Republican caucus, I will work hard to represent all people of my district, regardless of political or religious belief. As a Chaplain, veteran, and PhD in Theology, I will defend everybody's First Amendment rights."
Some in the liberal media are not too pleased with the Colorado district's election results. Kyle Mantyla has a piece published in Right Wing Watch in which Klingenschmitt is described as "a radical anti-gay Religious Right activist who brags of having once tried to rid of woman of the 'foul spirit of lesbianism' through an exorcism and who openly proclaims that 'American law needs to reflect God's law' and that our foreign policy must be based on the Bible."
Some Republicans aren't on board with him either, the Washington Times reported.
"Gordon does not speak on behalf of the Republican party," Colorado GOP Chairman Ryan Call told the Denver Post. "To suggest otherwise is inaccurate and dishonest."
Klingenschmitt first made headlines when he was dismissed from his 16-year career as a Navy Chaplain. According to The Pray in Jesus' Name Project website, Klingenschmitt's supervisors allegedly punished him for praying publicly in Jesus' name and attending partisan events in his naval uniform, charging him with violating the First Amendment.
After his dismissal, Klingenschmitt began The Pray in Jesus' Name Project to galvanize support for petitions supporting "pro-life, pro-marriage, and pro-freedom causes." The Pray in Jesus' Name Project website states that Klingenschmitt sent out 4.5 million petitions to Congress and helped restore the right to publically pray in Jesus' name in 12 states.
He is also known for his 2013 fight to get Right Wing Watch's YouTube channel suspended after they repurposed videos of him speaking about homosexuality, gay marriage and demonic spirits.
In a 2013 interview with The Christian Post, Klingenschmitt explained that he began filing complaints against RWW "because I got tired of their theft, copyright infringement, and piracy of my original video content."
In the race for Colorado's state representative, Klingenschmitt ran as a pro-life, pro-business religious conservative who supports the second amendment, highlighting his 20-year military experience in both the Air Force and the Navy, his knowledge as small business owner and his charity work.
Klingenschmitt also committed to running a positive campaign despite receiving death threats for his stance against gay marriage. The former navy chaplain won the Republican primary in April with a 71 percent victory over three other Republican challengers before going on to win the general election.
Klingenschmitt was part of a rising tide of GOP candidates that swept the polls nationwide. His state also elected Republican Cory Gardner to replace Democrat U.S. Senator Mark Udall, making Udall the first incumbent U.S. senator unseated in 36 years. The GOP also had surprising national wins in Arkansas, Colorado, Montana, South Dakota, and West Virginia.
In all the Republican Party gained enough seats to win a majority in the U.S. Senate, giving the party a majority in both chambers of Congress.
Klingenschmitt will be sworn into the Colorado General Assembly January 7, 2015.