Navy Mandates All Sailors Go Through Transgender Behavioral Training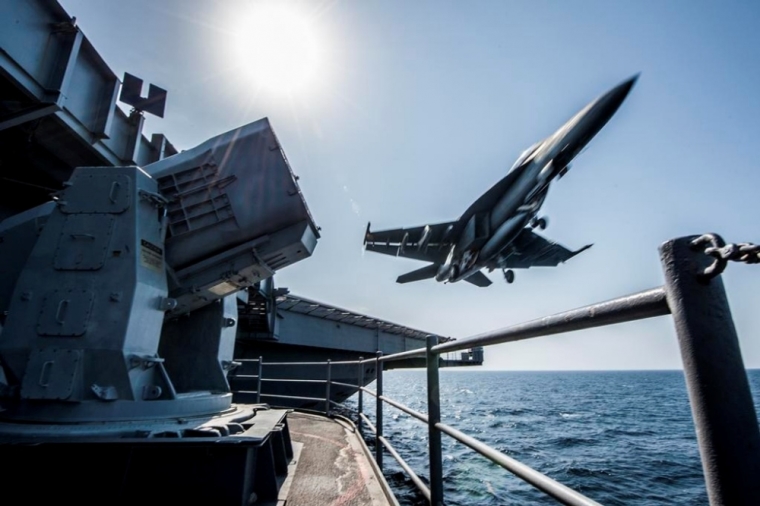 The United States Navy will require all sailors to undergo training on the service's new transgender policies being put in place as a result of the Pentagon lifting a ban on transgender service members openly serving in June.
According to Military.com, an all-Navy message was sent out last Tuesday by Chief of Naval Personnel Vice Adm. Robert Burke. Burke's message explained the new three-pronged training approach will prepare not only senior Navy leaders but also rank-and-file sailors for when the service begins accepting transgender recruits on July 1, 2017.
"This training will emphasize policies and expectations of personal behavior," the message states.
According to Lt. Jessica Anderson, a spokesperson for Naval Personnel Command who spoke with Military.com, all sailors will undergo the training by July 1, 2017.
Starting in November, the Navy will send around mobile training teams that consist of subject experts and Navy fleet representatives who will brief executive officers, command master chiefs and commanding officers on the policy.
Military.com reports that those briefings will also be open to other command-designated representatives who will take on a role of training tenant commands on the transgender policy.
Each unit will be mailed DVDs, discussion guides, and a Department of Defense guide that will explain the new policy. After the mobile training teams visit, a webinar will be made available to help answer any unanswered questions that leaders might have before the training of the fleet begins.
"Service members are expected to maintain standards of conduct and treat each other with dignity and respect," Anderson said. "Training for sailors will be conducted by command triads via mobile training teams or DVD with a facilitation guide if the unit is in a remote area and unable to receive face-to-face training."
Travis Weber, who served four years in the Navy as a pilot before leaving in 2005 and is now the director of the Family Research Council's Center for Religious Liberty, told The Christian Post on Monday that the Navy's plan to force all sailors to undergo training on the service's transgender policy could create some religious freedom complications.
"I don't think it is going to blow over," Weber said. "I think we are going to see the consequences of this playing out through increased discord in the military due to forcing people who cannot in good conscience go along with being told what they need to believe in these training sessions and you are going to see people refuse to sign up for the military or refuse to re-enlist. They are going to choose to get out instead of staying in. We will see long-term consequences that will be quite severe."
Weber warned that there could be more cases of religious freedom violations like that of Navy Chaplain Wes Modder, who faced possible discharge and career-ending discipline because he voiced his Christian beliefs on homosexuality during a counseling session with sailors before he was later exonerated.
"You look at a case like Chaplain Modder's in which he was administratively prosecuted and almost kicked out of the Navy for counseling privately according to his religious tenets, which he is required to do as a chaplain," Weber said. "He was told 'you can't do that' when it came in conflict with the agenda on homosexual conduct, same-sex issues."
"Here we have another agenda that is very aggressive and being pushed in a very intrusive manner, we are going to see the same sets of conflicts arise," Weber continued. "This is unfortunate because our military should be focused on unifying the troops and this is only going to divide them."
Weber said that the Department of Defense's transgender policy will negatively impact military readiness because of its divisiveness and the fact that it will require taking much needed resources away from more crucial areas of concern.
"The whole commentary from the Navy and activist groups about not tolerating harassment and treating everyone with dignity and respect is a distraction," Weber said. "No one is saying that people should be disrespected and harassed. Advocates for a Christian view of sexuality and marriage, none of us have tolerated that. We always condemn it."