NBC Announces Talk Show to Accompany 'A.D. The Bible Continues'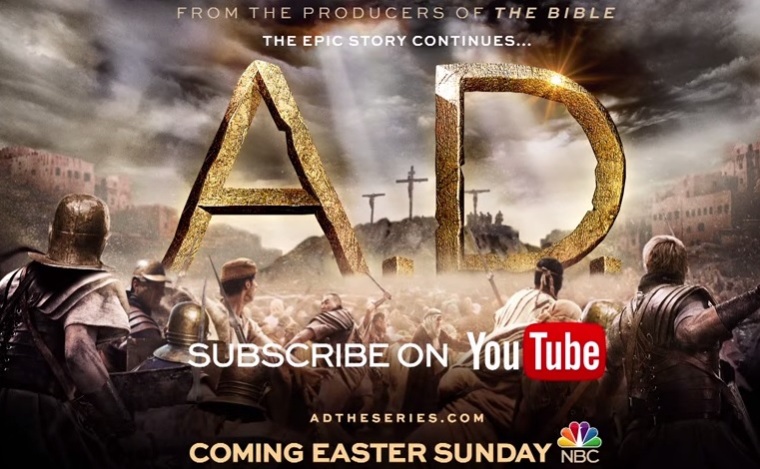 NBC announced Thursday a first-ever digital talk show "Beyond A.D." to follow Roma Downey and Mark Burnett's upcoming television series "A.D. The Bible Continues."
The new 10-part television series is set to premiere on NBC on Easter Sunday, April 5, and just one week later, "Beyond A.D." will launch in order to create a discussion platform for fans. Hosted by E! News' Jason Kennedy, the talk show will be taped before a live audience at the Real Life Church in Southern California. The 30-minute series will feature special celebrity and musical guests and can be streamed online.
"We are very excited to venture into the digital talk show arena and feel 'Beyond A.D.' is the ideal digital companion to 'A.D. The Bible Continues,'" said NBC Entertainment executive vice president Rob Hayes. "The series lends itself to in-depth discussions between fans, cast, producers and special guests."
"A.D. The Bible Continues" producers, Downey and Burnett, are also thrilled over NBC's talk show.
"'Beyond A.D.' is a wonderful way to continue the conversation that A.D. has started," the husband-and-wife team said in a statement. "We are excited that Jason [Kennedy] is on board and we have many incredible guests lined up as well as cast members who all will lend their voices to what will be a lively show."
The new talk show will allow "A.D." fans to learn more about the historical and spiritual topics that the broadcast will offer, in addition to insight from the cast and producers as well as other special guests. Already scheduled to appear is series star Juan di Pablo who portrays Jesus as well as Downey, Burnett, Rick Warren, Christine Caine, and many more. Musical guests will include All Sons & Daughters and Desperation Band, among many others.
Meanwhile, "A.D. The Bible Continues" is a follow-up to the hit "Bible" series. However, "A.D." picks up where the "Bible" left off and chronicles the rise of the Christian church, taking a closer look at the first ten chapters of the Book of Acts. The new series reveals the aftermath of Christ's death and its impact on his disciples and his mother, Mary, and key political and religious leaders of the time, all of whom are visible in the trailer here.