NC Baptist Convention Honors Billy Graham for Life's Work Sharing Gospel of Jesus Christ Worldwide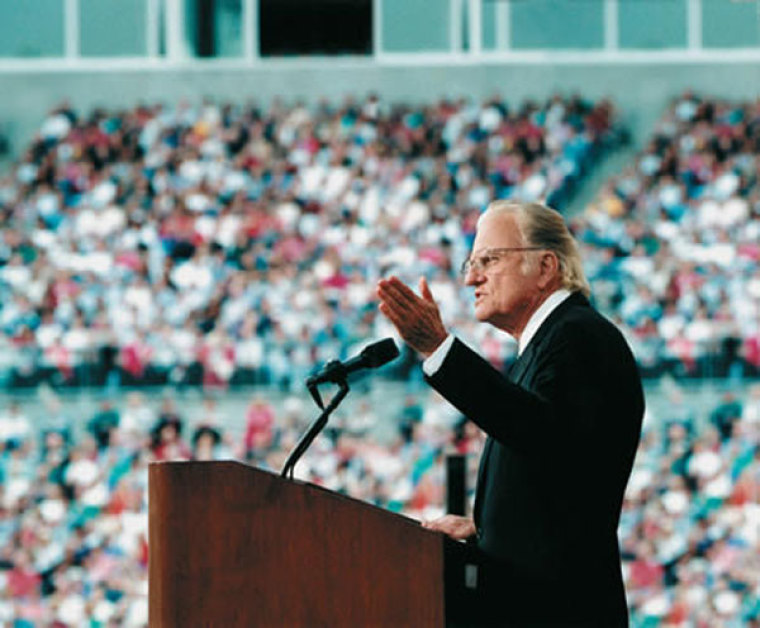 The Baptist State Convention of North Carolina has passed a resolution honoring the late Rev. Billy Graham in advance of what would have been the famed evangelist's 100th birthday.
At their annual meeting in Greensboro on Monday, the messengers at the convention adopted the "Resolution in Appreciation for the Life of Billy Graham."
"That the messengers to the Baptist State Convention of North Carolina meeting in Greensboro, North Carolina, November 5-6, 2018, grieve the passing of Billy Graham on February 21, 2018, while also celebrating, honoring, and commemorating his life and ministry as a beloved Southern Baptist who traveled the world sharing the good news of Jesus Christ," read the resolution in part.
"... we desire to celebrate Billy Graham's legacy by committing ourselves to sharing the gospel, living lives of personal holiness, and finding joy through an eternal peace with God accomplished by the life, death, and resurrection of Jesus Christ."
Once adopted, BSCNC Executive Director Treasurer Milton A. Hollifield Jr. presented Graham's former executive assistant David Bruce with a plaque engraved with the resolution text.
A native of Charlotte, North Carolina, Graham was raised on a dairy farm. He later graduated from Wheaton College in Illinois, now the home of the Billy Graham Center Museum.
Many believe Graham has preached the Gospel to more people than anyone else in history. According to the Billy Graham Evangelistic Association, Graham preached live messages to nearly 215 million people in over 185 countries and territories.
Graham also preached to hundreds of millions of people over a span of several decades through television, video, film and webcasts.
In February, months shy of his 100th birthday, Graham died peacefully at his home in Montreat, North Carolina, due to various health problems connected to advanced age.
Will Graham, a grandson of Billy Graham (whose full name is William Franklin Graham Jr.) and the son of Franklin Graham, sent The Christian Post a statement regarding his grandfather's passing.
"We mourn that he is no longer with us physically here on Earth, but we don't grieve as those who have no hope," Graham said.
"My grandfather invested his entire life in sharing the promise of eternity through Jesus Christ, and today he had the opportunity to realize that hope himself, kneeling before his Savior and hearing the words, 'Well done, good and faithful servant.'"