Watch Young Billy Graham Preach Again; Will Graham Plays Grandfather in 'Unbroken' Sequel Preview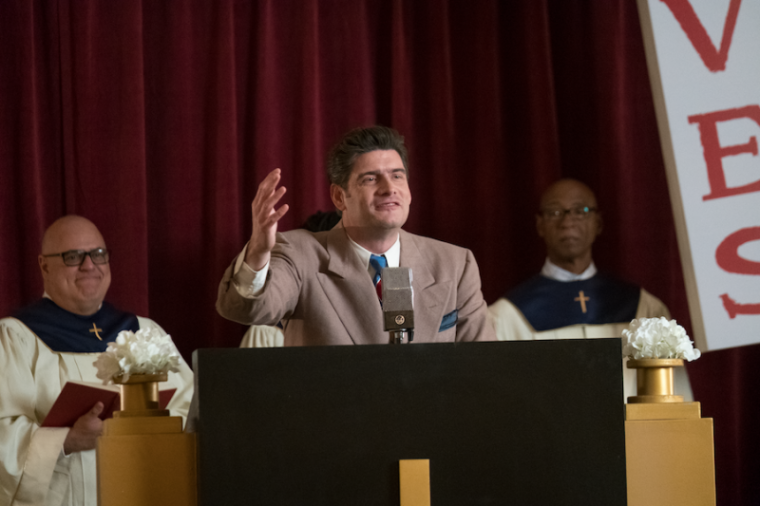 Will Graham plays his evangelist grandfather, Billy Graham, in the next installment of Louie Zamperini's life, "Unbroken: Path to Redemption," and now the legendary preacher's words can be heard again in a new preview of the film.
"Unbroken: Path to Redemption" hits theaters Sept. 14 and tells the second half of Olympic gold medalist Louis Zamperini's life after he returns to America from World World II as a prisoner of war survivor. The new film details the encounter Zamperini had with Billy Graham that would change the hero's life forever.
"Preaching is something natural for me. Trying to preach someone else's sermon, that was tough," Will told USA Today in a recent interview. "People say I sound like my granddad. That's because we're from Western North Carolina. People say I look like him. I hope I do, I'm part of him."
Billy Graham died shortly after the movie wrapped filming so he didn't get the chance to see the final product.
"He knew about it. It's sad. As a grandson, I wish he could have seen the movie. But the Lord had other plans," the young evangelist added. "He lived it. He has the memories."
A recently released clip of the film shows the new actor's stunning portrayal. He can be seen and heard embodying the late reverend during the Los Angeles revival that turns Zamperini's life around.
Watch the clip here: 
The upcoming film picks up where Angelina Jolie's 2014's epic "Unbroken" movie ended and is also based on Laura Hillenbrand's best-selling book, Unbroken.
Bringing this redemption story to life on the silver screen is actor Samuel Hunt ("Chicago P.D.") as Zamperini; Merritt Patterson ("The Royals") as his wife, Cynthia; David Sakurai ("Iron Fist") as Zamperini's prison guard Watanabe/"The Bird;" and of course Will Graham as the late Billy Graham.
During a candid interview on the film earlier this year, Co-Producer Matthew Baer described what it was like having Will Graham play his beloved grandfather. Although Will Graham is new to the acting scene, Baer claims he did a "terrific job" in the movie.
"Now obviously it is even more powerful with Billy being gone, that Will is taking the mantle in the film," Baer told CP.
"There was a power to Billy Graham that is undeniable," the filmmaker added. "When he was a young man preaching in 1949 Los Angeles, and you look at the real footage — we have some of the real footage in the film — when you look at the power of who Billy Graham was as a speaker, as an inspiration, he was one of the most articulate and beautiful public speakers of all time."
According to the film's synopsis, the film tells the story of "Zamperini's experiences returning to the United States."
"When the war ended, his real battle began. Haunted by nightmares of his torment, Louie sees himself as anything but a hero. Then, he meets Cynthia, a young woman who captures his eye — and his heart. Louie's wrathful quest for revenge drives him deeper into despair, putting the couple on the brink of divorce. Cynthia turns to God, and prays for Louie to find peace and forgiveness [and he does after attending a Graham crusade]."
"Unbroken: Path to Redemption" was directed by Harold Cronk of "God's Not Dead," and was produced by The WTA Group in partnership with Universal 1440 Entertainment, and is being released through Pure Flix.
For more information on "Unbroken: Path to Redemption" visit the website.