NC Lawmakers Want to Put Billy Graham Statue in US Capitol to Replace Statue of White Supremacist Former Governor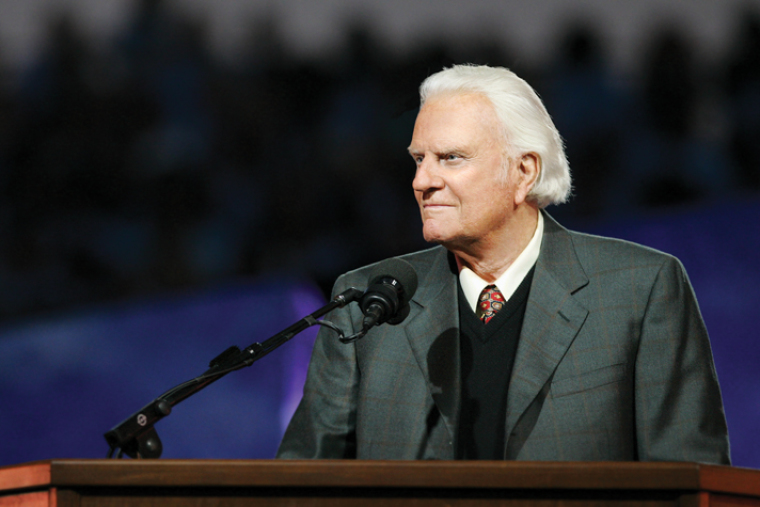 Lawmakers in North Carolina have proposed legislation to replace a statue of the state's white supremacist former Gov. Charles Ayock at the U.S. Capitol building's National Statuary Hall collection with a statue of world-famous evangelist and North Carolina native Billy Graham.
As each state has the option to send two statues to the U.S. Capitol building to display in its National Statuary Hall collection, a statue of North Carolina's 50th Gov. Charles Aycock has been part of the collection since 1932, even though it has been well documented that the governor was heavily involved in white supremacy campaigns during the late 1890's and early 1900's.
Aycock, who served as North Carolina governor from 1901 to 1905, was well liked for his pro-education policies. However, his name and reputation comes under much scrutiny for his role in advocating for white supremacy. Aycock participated in the Wilmington massacre of 1898, which consisted of a mob of over 2,000 people that stormed the only black newspaper in the state and various African-American homes killing as many as 60 people. Aycock was also known to push for segregation and African-American voter disenfranchisement.

Last Thursday, Republican State Sen. Dan Soucek introduced a bill calling for the removal of Aycock's statue in Washington and replacement with a statue of Graham, a renowned evangelist from Charlotte who has traveled all over the world to lead people to light of Christ.
"Billy Graham is a native son of North Carolina and this is where his routes are from and this is where he has chosen to reside," Soucek told The Christian Post on Monday. "What he has meant for North Carolina is hard to say because of what he has done for the country, for the world, for the cause of Christ is really hard to put in words."
Given Aycock's controversial past, Soucek argued that it makes sense to replace Aycock's statue with a figure that would be adored by the people of North Carolina.
"I just think that we could have a more recent figure and someone whose values are so much more universally accepted and loved and appreciated," Soucek said. "I think that when people walk through Washington and see the statute that the people of North Carolina sent to Washington to represent them, I can't imagine a better human being than Billy Graham."
"He's been an example of Christian ministry or Christian conduct of spreading the gospel to not only people in the United States but to people around the world and of different races and cultures and religions," Soucek continued. "He has broken ground in so many different areas from racial divisions to spiritual divisions. He has been a minister to presidents and a minister to small churches."
Soucek explained that he first felt the desire to remove Aycock's statue after visiting Washington D.C. for an education conference. During his trip, he had a conversation with U.S. Rep. Virginia Foxx, R - N.C., who showed him Aycock's statue and told him, "I think we can do better than this statue for North Carolina."
Soucek said that Foxx challenged him to come up with a suitable replacement for Aycock's statue and initiate the legislative process to officially have Aycock's statue removed.
"A little while later, my wife had said, 'I know who we should do, we should propose Billy Graham,'" Soucek explained.
After piecing together the legislation, Soucek felt it was necessary for the legislation to be supported and sponsored by members from both legislative houses and both political parties.
Along with Sucek, the bill is co-sponsored by African-American Democratic State. Sen. Joel Ford, who represents the district in Charlotte where the Billy Graham Library is located. The bill is also being sponsored in the state's house of representatives by Republican state Rep. Charles Jeter.
"[Graham] is someone that I think all of North Carolina can be proud of," Jeter told WRAL-TV.
Soucek said it is too early to gage whether or not the legislation has enough support to be voted on during the current legislative session and added that it is likely that it could put on the back-burners while the North Carolina General Assembly addresses more pressing issues.
"There is no way to know any type of path that a bill can take. I think we have a great start and a great foundation," Soucek asserted. "It is a long process with budgets and policies being a big reason why we are in Raleigh. Sometimes those resolutions such as this take a back seat. It depends on the dynamic of the session but I think we have set ourselves up really well for it."
Aycock's name has also been removed from a number of campus halls at North Carolina universities. In February, East Carolina University removed Aycock's name from one of its residence halls, while Duke University took a similar action last year.
"It is always encouraging when there is a lot of independent thinking from the constituents concerned about the statue to people around the state, like the schools who are concerned about their legacy," Soucek added.