Nearly 2 Dozen Students Arrested on Drug Charges After California Cops Went Back to High School as Undercover 11th Graders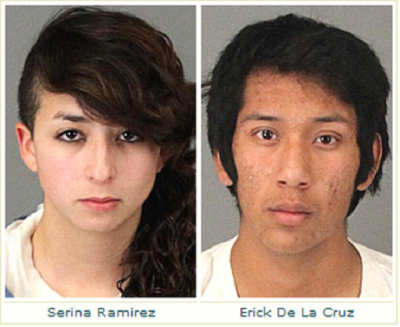 The Riverside County Sheriff's Department arrested nearly two dozen students after seizing an array of illegal drugs such as crack, crack cocaine, marijuana and methamphetamine in an undercover operation at a two California high schools last Thursday.
A press release from the sheriff's department said the students were arrested after a long-term investigation of illegal drug sales at Perris High School, in the city of Perris and Paloma Valley High School in the city of Menifee.
Investigators identified 23 juvenile students as well as two adult students between the two schools involved in the sale of illicit drugs, but only arrested 22 of them including the two adult students identified as Serina Ramirez, 18, and Erick De La Cruz, 19. Both of the students were arrested on the Perris High School campus.
A report in The Press-Enterprise said a female deputy went undercover at Perris High while a male deputy worked at Paloma and had been posing as students since the start of the school year. The revelation shocked students.
"They knew who they were looking for and exactly how to get there," said Anthony Rodriguez, 16, at Paloma Valley where everyone was talking about the busts.
Students said officers simply came into classrooms with photos of the teen suspects and handcuffed them in front of their classmates.
"Scary. I saw my friend get arrested," said Trevor Steinrichter, 16, who explained how police showed up in his history class.
Bruce Hollen, 16, said it was unnerving to think police officers were undercover at his school. "You think you can trust people – you just never know," he said.
Superintendent of the Perris Union High School District, Jonathan Greenberg, said the sheriff's department proposed the undercover operation earlier this year and he had no reservations.
"It was a question of what we could do to assist them," he said. "This is a very well-researched program. The people in it are all professionals."
According to the report, the sheriff's department has been conducting undercover drug investigations on high school campuses for the past few years.
An investigation in 2012 focused on Chaparral and Temecula Valley high schools in Temecula. About two dozen students were arrested, including a special education student with autism, which prompted a lawsuit against the Temecula Valley Unified School District.
Undercover deputies posed as students at Vista del Lago High School in Moreno Valley and Elsinore High School in Wildomar in 2011 while a similar sting was conducted at Palm Desert High School in 2010.