Nearly 8 in 10 Millenials Support Banning Abortion After 20 Weeks of Pregnancy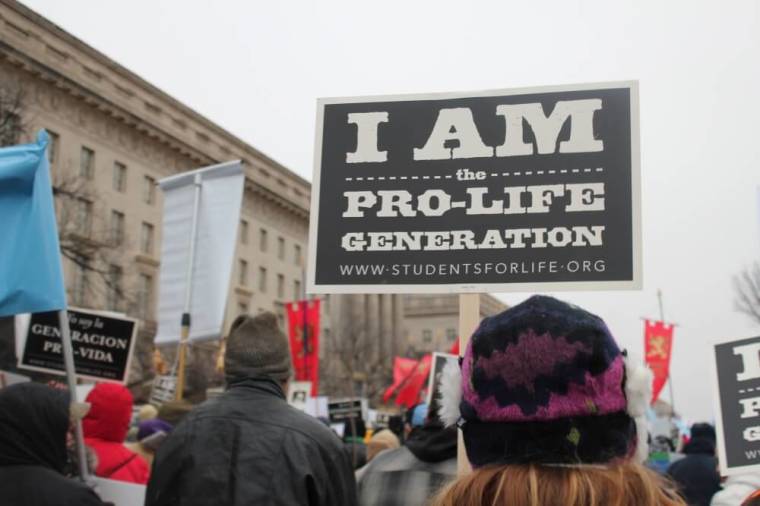 Another poll has found that a majority of American voters favor a ban on late-term abortions, including nearly eight in 10 millennials and seven in 10 African-Americans who support a bans on abortions after 20 weeks of pregnancy.
The new poll, which was announced on Thursday by the pro-life lobbying group Susan B. Anthony List, was conducted by The Polling Company, Inc./Women Trend, the firm run by Donald Trump adviser Kellyanne Conway. The data is based on responses from 824 actual voters nationwide who were interviewed over the phone (70 percent landline and 30 percent cell phone) on election day.
The survey shows that about two out of three respondents favor legislation such as the Pain-Capable Unborn Child Protection Act introduced in 2015, which would ban abortions after 20 weeks, or five months, of gestation with exceptions for cases of rape, incest and when the mother's life is in danger.
In total, 64 percent of respondents said that they either strongly support or somewhat support a 20-week abortion ban, with 43 percent of total respondents saying that they strongly support such a ban.
By comparison, just 28 percent of respondents said that they strongly or somewhat oppose a 20-week ban, with 22 percent of total respondents saying they strongly oppose the ban.
The finding that 64 percent of respondents expressed support for bans on abortion after 20 weeks, represents a slight increase in the percentage of Americans that said they support a 20-week ban in a 2013 Huffington Post/YouGov poll, where 59 percent of respondents said they favored the measure.
"Last year Donald Trump told CBN that the United States 'should not be one of seven countries that allows elective abortions after 20 weeks. It goes against our core values,'" SBA List President Marjorie Dannenfelser said in a statement. "A majority of voters — including women, young people, Hispanics, and African Americans — agree. They support compassionate legislation to limit abortion after five months, more than halfway through pregnancy."
The poll, which has an error margin of plus or minus 3.4 percentage points, also shows that men and women were just about as likely to support the Pain-Capable bill. Sixty-three percent of men expressed support for the legislation, while 65 percent of women expressed support for the bill.
According to the survey, 78 percent of millennials expressed support for the legislation, which mirrors findings of a Marist poll produced earlier this year that found that 76 percent of millennials support limits on abortions after three months of pregnancy. The polling results continue to feed the pro-life narrative that millennials are a "pro-life generation" and the generation that is going to "end abortion."
"When you look at the polls, we are actually the first youth generation since the handing down of Roe [v. Wade] and Doe [v. Bolton] that is pro-life," Kristan Hawkins, president of the pro-life student organization Students for Life of America, told the National Review. "When we talk to students on campus, they believe and know abortion is wrong. Our challenge is getting them to step outside of the moral relativism that has been beaten into them and agree that abortion should be made illegal."
As abortion has had a major effect on the black community and black celebrities like entertainer Nick Cannon and NFL player Benjamin Watson have recently spoken publicly about the impact abortion has had on African-Americans, the new poll also shows that a large majority of African-Americans expressed support for the legislation. In total, 70 percent of African-Americans expressed supported the legislation.
Meanwhile, the poll found that about 57 percent of Hispanics expressed support for the legislation.
Additionally, about 78 percent of conservatives and 78 percent of Trump supporters expressed support for the legislation, while 75 percent of evangelicals did as well.
The survey also shows that support for a ban on late-term abortions crosses regional lines, as 70 percent of respondents in the South, 60 percent of respondents from the Northeast, 66 percent of respondents from the Midwest and 58 percent of respondents from the West expressed support for the 20-week ban.
Only in the Northeast and the West did opposition to the proposed legislation rise above 30 percent, with 33 percent of respondents from the West and 32 percent of respondents from the Northeast expressing opposition to the legislation.
"Pro-life voters who were key to victory on election night are eager to see a pro-life White House and Congress address the horrific reality of late-term abortion in America," Dannenfelser said. "We urge Congress to take up this legislation as soon as possible so that as many as 18,000 lives a year will be saved."