Nearly Half of Children Born in the US Have Parents Who Are Not Married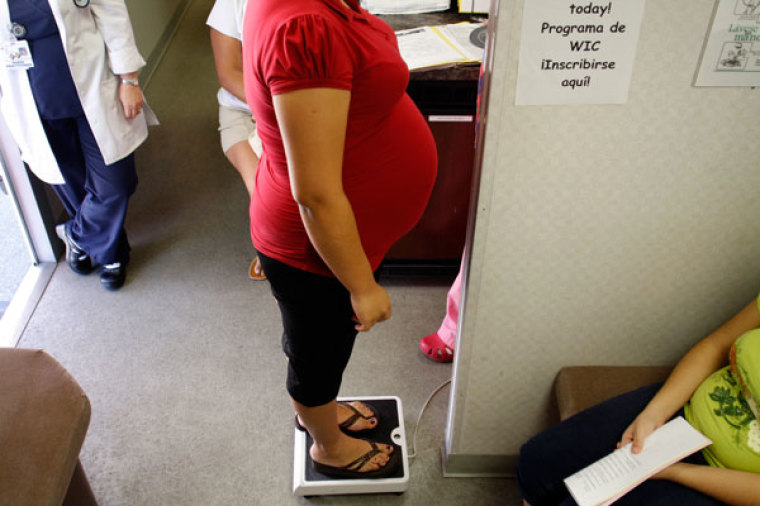 Nearly half of American children are now born to unmarried parents, according to a new report from the U.N.'s Population Fund, the largest international provider of sexual and reproductive health services.
In the report released Wednesday, America is cited along with several developed nations in Europe and Asia where women are giving birth later in life and outside marriage due to what some experts say is partly due to changing religious ideas about marriage. The trend is also correlated to fertility declines.
"Fertility decline between 1970 and 2000 coincided with trends toward later marriage and more cohabitation, divorce and childbearing outside marriage," UNFPA researchers said.
"These trends, however, peaked in some countries, such as Sweden, the United States and Russia, and then reversed after 2004 (Figure 35). In the European Union, the share of births outside marriage reached 42 percent in 2014 — double the level in 1994."
The Centers for Disease Control and Prevention reported earlier this year that the U.S. birthrate fell for nearly every group of women of reproductive age in 2017, reflecting the fewest number of newborns since 1987.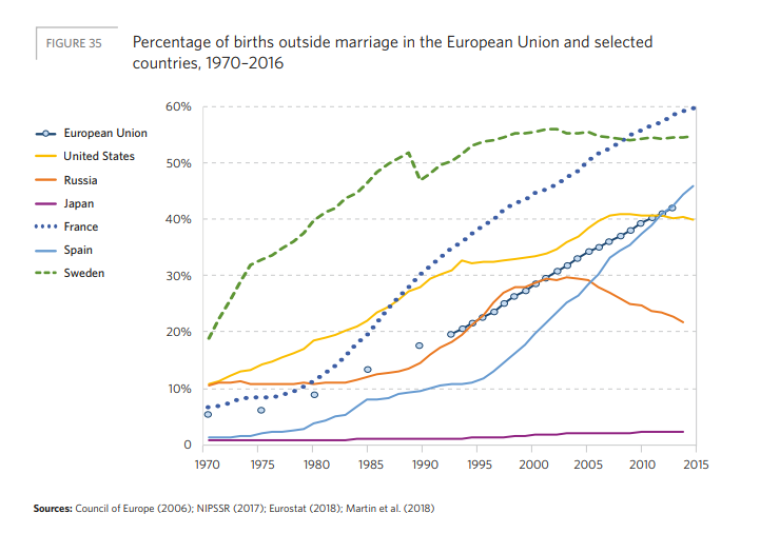 "Most births outside marriage are to unmarried couples living together rather than to single mothers. Around 2010, 1 in 10 European children up to the age of 2 lived with a single mother, compared with 4 of 10 children who lived with a couple that was not married," the report noted.
In 1970 about 10 percent of children in the U.S. were born outside marriage but by 2016, the number of children born to unwed parents quadrupled to 40 percent.
Michael Hermann, UNFPA's senior adviser on economics and demography, told Bloomberg that the EU is likely seeing more births out of wedlock because many member countries have welfare systems that support gender-balanced child care. Public health care systems, paid paternal leave, early education programs and tax incentives also give unwed parents support beyond what a partner can provide.
Hermann also noted that if babies weren't being born out of wedlock then declining fertility levels in some countries "would be much steeper."
"The trend will continue, there's no doubt about it," he told Bloomberg. "We can't go back to '50s."
John Santelli, a professor in population, family health and pediatrics at Columbia's Mailman School of Public Health, also told Bloomberg that cohabitation has been a long term trend in developing nations.
Kelly Jones, director for the Center on the Economics of Reproductive Health at the Institute for Women's Policy Research, said more women delaying motherhood to pursue careers is also a factor behind the increase in the number of children born out of wedlock.
"Women are claiming their ground professionally," she said. "Delaying motherhood is a rational decision when you consider the impact it can have on your career, and that's contributing to this trend."
A 2016 Barna study shows that a majority of Americans now believe in cohabitation due to pressures like shifting gender roles and expectations, the delay of marriage, and a secularizing culture.
Senior Pastor Pete Briscoe of Bent Tree Bible Fellowship church in Carrollton, Texas, recently preached against the practice of cohabitation, especially among Christians.
"When you're cohabitating it's like you're single pretending to be married. You're not really experiencing either of those great ways (single or married) to live. And, as a result, you're forfeiting the benefits of both. It's a cheap facsimile of the real thing," Briscoe said.
Bradford Wilcox, a professor of sociology at the University of Virginia, along with other colleagues wrote in a study called The Cohabitation-Go-Round: Cohabitation and Family Instability Across the Globe that a rise in the proportion of all births to cohabiting couples is associated with a later rise in the proportion of children living apart from at least one of their biological parents across 68 countries.
Wilcox also noted in Foreign Affairs that children born to cohabiting parents are approximately twice as likely to see their parents break up by the time they turn 12, compared to children born to married parents.