Neighbors Divided Over Halloween Gravestone That Condemns Trump to 'Burn in Hell'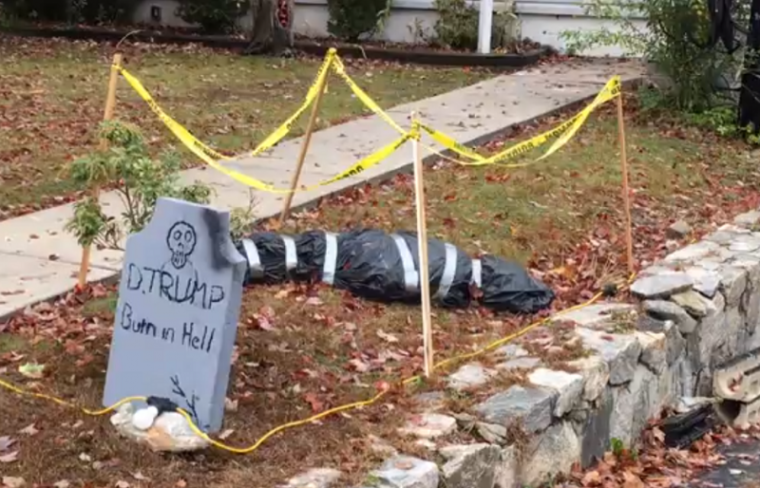 Two neighbors in Cortlandt Manor, New York, are now wrangling over a Halloween gravestone that condemns President Donald Trump, who is a professed Christian, to "burn in Hell."
The gravestone is part of a Halloween display on the front lawn of Cortlandt resident Fabian Vergara's home, USA Today said. There are four other gravestones included in the display.
The controversial gravestone that targets Trump is part of a fake crime scene that includes a corpse wrapped in a body bag and yellow caution tape.
Theresa Gucciardo-Perry, one of Vergara's neighbors, told USA Today that she was so offended by Vergara's Halloween set-up she tried to get Cortlandt officials to force him to remove the display.
"I want to know how far freedom of speech goes," she said.
Vergara, who is an immigrant from Ecuador, said the display was just a joke.
"I'm doing it for fun. It was a joke," he said. "I like Halloween, so I don't see anything wrong with that. It's a free country."
Other neighbors, including Ruud Haring who was born in The Netherlands, agreed that Vergara is free to do what he wants on his property.
"I haven't seen it, but I wouldn't care either way," Haring said. "It's definitely freedom of speech, right?"
Gucciardo-Perry now wants Vergara out of the neighborhood for the display which she finds in poor taste.
"Fabian needs to be removed from the neighborhood," she asserted.
Vergara, who lives with his wife and children, claimed that Gucciardo-Perry has not been a good neighbor. He told USA Today that she approached him on Tuesday about the display and he was willing to remove it until she told him to go back to his country.
"It's not fair," he said. "That's not the right way to treat me, like that."
Gucciardo-Perry shot back that Vergara had "no intentions of removing it."
She explained that she "welcomed him (Vergara) to the neighborhood" 10 months ago when he moved in with his family and she knows he's an immigrant. If he doesn't like the way things are in America, she said, he should leave.
"Is this about Halloween or about you making a political statement?" she asked of the Halloween display. "You don't like it here? Get the hell out."
Gucciardo-Perry whose late husband, White Plains Police Detective Michael Perry died of a heart attack in 2010, said even though "we know that Trump does not say nice things," people must show respect for authority.
During the 2016 presidential campaign, Trump said that he has a "great relationship with God" even though he doesn't like having to ask God for forgiveness.
"I have a great relationship with God. I have a great relationship with the evangelicals," Trump said a CNN interview in 2016. "I like to be good. I don't like to have to ask for forgiveness. And I am good. I don't do a lot of things that are bad. I try to do nothing that is bad."
In an interview last month, Paula White, the president's spiritual advisor who is also a member of his evangelical advisory council, said he has been getting better at repentance because she has heard him do it.
"He said, 'I have become a better man,'" White said. "He knows like all of us know that prayerfully I'm better tomorrow than I am today and I'm better today than I was yesterday."