Christian Ministry Competing for 'Gospel Truth' Against 'False Teaching' of Prosperity Preachers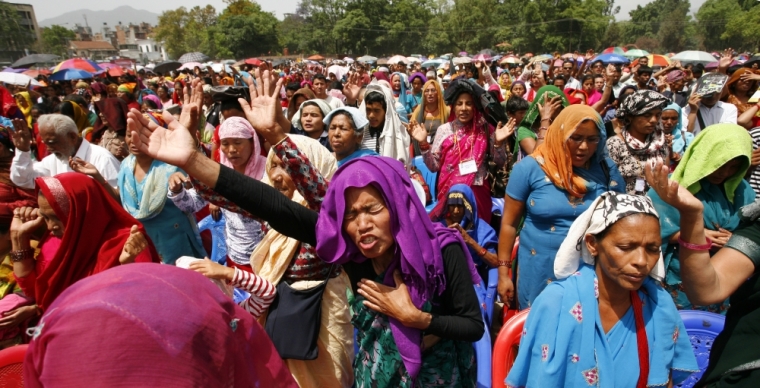 A Christian ministry in Nepal has reflected on the changing political currents in Nepal, and noted that as room for preaching the Gospel has grown, so has "false teaching" coming from groups such as Jehovah's Witnesses, Mormons, and prosperity gospel preachers.
"When there was persecution, professing the name of Christ was very costly, but since the government became secular there's freedom, and because of that there's a lot of false teaching coming in, so it's imperative that they know what true teaching is," one ministry director working from Nepal said in a press release shared by Christian Aid Mission.
"With Jehovah's Witnesses, Mormons, prosperity gospel and others coming in, that problem is increasing, and the people that they are shepherding need to get fed the truth of the Scripture."
Nepal recently affirmed a long-time ban on proselytizing in its new constitution, outlawing "any act to convert another person from one religion to another or any act or behavior to undermine or jeopardize the religion of another."
The Christian missionary group, which assists 12 ministries in Nepal, said the good news for Christians is that a petition by hardline Hindus to restore Hindu monarchy and ban all religious conversions was rejected.
Hindu extremists have been openly hostile to foreign Christian missionaries, ordering them to leave the country following a series of church attacks in September.
The extremists have been attempting to influence the government, which has declared the country to be a secular state.
The ministry leader said that despite violence and legal restrictions to conversions, Christianity has flourished in Nepal in recent years, with believers learning how to share the Gospel in discreet ways.
"It started with my mom copying down 100 names and addresses from the back of a magazine of youths looking for pen-pals – basically, they were looking for love," he shared. "My mom started writing letters to them, and she would say, 'If any of your friends would like to read my letters or would like to read more about Jesus, then please send me their addresses.'"
Those efforts gave birth to the ministry in 1992, which started spreading Gospel materials to large sections of the population which had never heard of Christianity before. As much as 81 percent of the population identified as Hindu, with Buddhists making up another 9 percent. Christians are only a 1.4 percent minority, according to a 2011 statistics by the CIA World Factbook.
The ministry leader said that his organization focuses first on reaching out to bilingual Christians who know both Nepalese and a tribal language, so that they can then share the Gospel in their own local language.
"Ideally we would like to be training 100 people — four groups," he continued. "But we need teachers able to do that, so we're working to get them, and of course we need finances to get that going. The teachers are paid, and we use local pastors. We do have pastors with just biblical degrees, but ideally we're looking for guys who have a master's of divinity and are pastoring local churches."
The ministry says that it has planted hundreds of churches in total, and is helping to develop another 66 churches, 13 less developed fellowships, and 14 incipient cell groups.
"The harvest is plentiful, the workers are few," the director added. "We need the people capable of taking the work forward."