Netflix hit 'Stranger Things' sees sharp rise in profanity, violence: media watchdog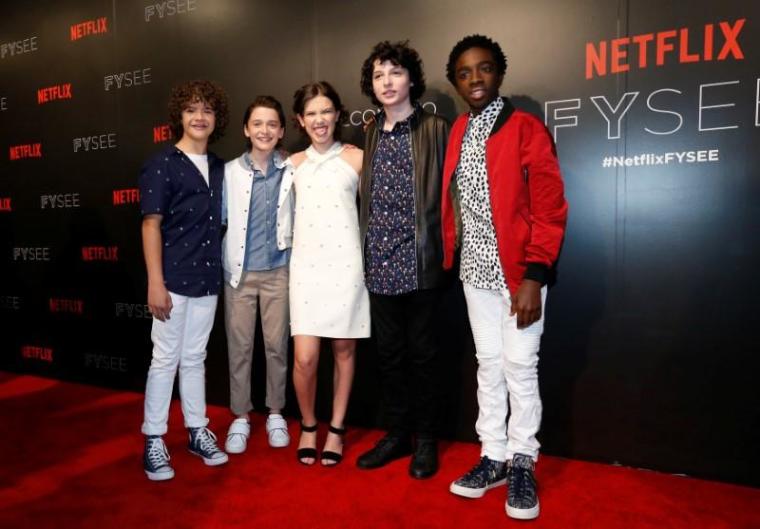 Netflix's hit series "Stranger Things" seems to be getting more explicit as the show — and its young cast — grow older, according to a parents watchdog group.
A new report from the Parents Television and Media Council (PTC) found that the TV-14 rated program has steadily introduced more explicit adult content with each new season, resulting in what it calls a "shocking increase" of uncensored profanity and graphic violence. 
Now in its fifth season, "Stranger Things" has enjoyed multi-generational appeal among audiences, with subscribers having viewed nearly 287 million hours of season 4.
PTC's "Stranger and More Explicit Things" report analyzed each episode of all four seasons utilizing content filtering data from VidAngel, which uses content filters to identify explicit content in select programs.
Based on that data, the nonpartisan media watchdog found a 217% increase in profanity from season 1 to season 4, including a staggering 739% increase in the frequency of the word "s—" from season 1 through season 4.
While the show didn't use the "f-word" until its second season, that word was used six times in season 2, five times in season 3, and nine times in season 4, according to the report.
Compare that with the TV Parental Guidelines Monitoring Board content rating system, where a single usage of the "f-word" would trigger a mature audience content rating. On basic cable and broadcast TV, a single use of that same word would violate federal indecency laws.
Melissa Henson, PTC program director, told The Christian Post that the disparity is striking.
"Across the board on these streaming services, standards have slipped dramatically," said Henson. "These streaming services have content that would never have been permitted on broadcast TV, in particular. The 'f-word' and the 's-word' is dramatically increased on streaming services, far beyond what you ever saw on broadcast or cable."
In addition to foul language, the report also noted a 307% increase in violence from season 1 to season 4 — the last of which contained depictions of dead children.
Henson said even though the series' TV-14 rating has not changed, there has been a "dramatic increase season over season in both foul language and violence."   
"We're not talking about one or two percentage points, we're talking about hundreds of percentage points," she said. "To have that frequency of explicit language and frequency of violence, and see that increasing without any recognition or acknowledgment is, I think, very troubling."
The report concludes by calling on Netflix to "immediately" re-evaluate its content ratings for "Stranger Things."
Netflix as a platform has come under increased scrutiny in recent years after earlier reports from PTC found "pornographic content" and "sex, violence and profane, indecent, or obscene language" in animated shows "Big Mouth" and "Human Resources."
The watchdog group also warned parents in April about what it described as a "disturbing" increase in sexualized TV, movie and streaming content aimed at younger audiences in popular shows such as HBO's "Euphoria," which included fully nude images of more than 30 high-school-aged boys in just a handful of episodes from its second season.