New Birth Missionary Baptist Church, Rapper T.I. bail out 23 nonviolent, first time offenders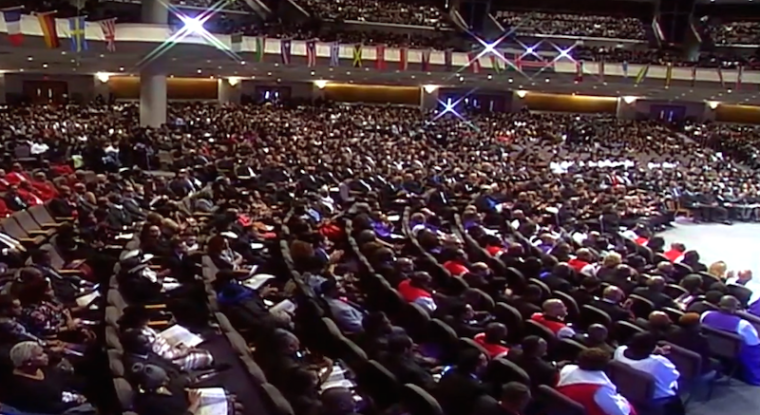 New Birth Missionary Baptist Church, along with notable rapper T.I. and VH1's "Love and Hip Hop" personality Scrapp Deleon, helped to bail out 23 nonviolent, first time offenders for Easter.
The Georgia-based megachurch began raising money for the bailout earlier this year when the holy season of Lent began. The goal had originally been $40,000.
However, New Birth far exceeded that goal and raised around $120,000, using the money to help bail out seven women and sixteen men by Easter, according to Fox 5 Atlanta.
"It's like a whole new clean slate," said one of the recipients to Fox. "I was doing drugs before I got locked up … but I don't want to do nothing but do right and strive to be a model citizen for my kids."
In addition to giving out the money, New Birth's bailout program will also include regular check-ins with the offenders who benefited from their charity.
Jamal Bryant, lead pastor of New Birth, stated in comments reported by The Telegraph that he "could not be prouder of my New Birth family for answering the call and affirming that everyone deserves a second chance."
"I could think of no better way to celebrate the resurrection of Christ than to provide these young men and women with an opportunity to reunite with their families, resurrect their lives and get back on the right path," said Bryant.
Bryant became head of New Birth last year, preaching his first sermon nearly two years after the death of the megachurch controversial former leader, Bishop Eddie Long.
"New Birth is a resilient people. No matter what pit they try to throw us in, God always throws us a trampoline for us to be able to bounce back," stated Bryant last December.
Bryant was selected from a pool of 138 candidates to become the new leader of the megachurch, leaving his leadership position at the 10,000-member Empowerment Temple in Baltimore, Maryland.
Before becoming head of New Birth, Bryant weathered his share of personal controversies, including a divorce and an accusation that he fathered a child out of wedlock in 2015.
The bailout was not the only major charity project New Birth has overseen this year. In January, the church provided around $300 each to 28 federal workers from their congregation who were affected by the then ongoing partial government shutdown.