New 'Forza Motorsport 6' DLC is 'Fallout 4's' Chryslus Rocket '69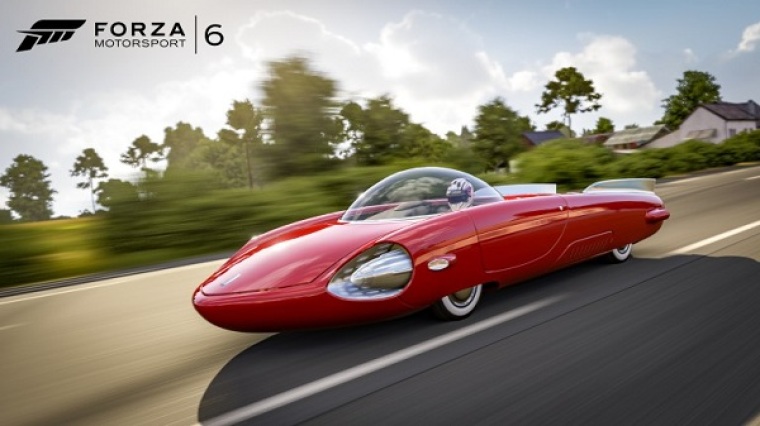 Developer Turn 10 Studios announced on Thursday that the Chryslus Rocket '69 from "Fallout 4" has now arrived to "Forza Motorsport 6." Brian Ekberg, community manager at Turn 10 Studios, shared the news at the Xbox Newswire.
"Built for cruising the highways and byways of the pre-apocalypse, the micro fusion-powered Chryslus Rocket '69 will soon be turning laps on the world-famous circuits of Forza Motorsport 6," Ekberg described the new car. "With its retro-futuristic lines and performance that will take you from zero to "whoa" in a handful of seconds, the Chryslus Rocket '69 is a unique addition to any car collection featuring a custom Forzavista experience that details its history and lets players check out its features in astonishing detail."
The Verge describes the Chryslus Rocket '69 as "easily the most beautiful of Fallout's retro-futuristic vehicles." The video below shows the vehicle throws away the conventional steering wheel for "rocket ship handling" and jet fighter controls. The super-fast car can travel up to a top speed of over 200 mph, according to the trailer's narration.
Xbox One gamers who have played either "Forza Motorsport 6" or "Fallout 4" on their consoles while connected to their Xbox Live profile will be receiving codes for the Chryslus Rocket '69. Each account is limited to one code. Microsoft, which started sending out codes on Thursday, said it could take up to seven days or one week to arrive. Those who just recently bought their copies of the games, specifically between April 14 to 30, will get their codes starting early May.
The Chryslus Rocket '69 is the second "Fallout 4" vehicle to become playable on the Xbox One racing game as part of Turn 10 Studios and Bethesda Studios partnership. The two companies announced their collaboration in November 2015, just before "Fallout 4" launched.