Pure Flix's 'Sun Moon' tackles heartbreak, loss with a message of God's faithfulness, actress says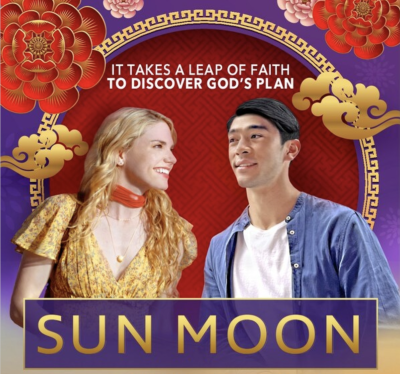 The star of the new inspirational Pure Flix film "Sun Moon" says the romantic comedy highlights God's faithfulness amid the heartbreak and pain of life and the freedom that comes with trusting in His plan.
"God works in ways that are completely beyond your imagination," the 34-year-old actress Mackenzie Mauzy told The Christian Post.
"There were many things in my life where I thought, 'I'm just going to stay here and do this simple thing and try to make this work,' and God had like such a bigger plan for me. I wouldn't have been able to see that if I didn't just keep moving forward. Even when I didn't feel like it, I knew in my heart that God had a plan for me."
"I think that it's in those hard times, and in those times of loss, that you really start to open your eyes, start to open to how He's working and the love in your life and the people that He's brought into your life. There's beauty on the other side of it, the sort of after-the-storm."
The Affirm Originals movie, which hits Pure Flix on May 5, follows Kelsey (Mauzy), whose vision for her future is shattered when her fiance leaves her at the altar. 
Heartbroken and humiliated, she leaps at the chance to escape her life and teach English in Taiwan.
But even in a new country, Kelsey's troubles don't seem to subside: Teaching is overwhelming, and some defiant students refuse to listen to her. The school principal encourages her to learn from Horace, another young teacher the students like, and a friendship begins to blossom.
"Will she ever find happiness and love again?" asks the film description. 
The film also stars Justin Chien, Madison McLaughlin and Michael Jong-Quin Huang. The film was produced by Steve Taylor, a two-time Grammy nominee and director of "The Second Chance" and "Blue Like Jazz."
A family-friendly film, "Sun Moon" centers on discovering joy and purpose despite life's challenges. But it also tackles complex topics like loss, death and heartbreak.
As she navigates feelings of unworthiness and heartbreak, Kelsey is shown struggling with God.
"I think part of her is kind of mad at God in a way, and maybe she's mad at herself. She's just navigating a lot of emotions," Mauzy said. 
Through the people she meets, as she attempts to fit in in a new country, Kelsey begins to feel less alone and embraces the beauty of community. 
"Community is so important," Mauzy said. "[Kelsey] really just had to figure out how to connect with people because there was also this language barrier in Taiwan. So it kind of forced her to step outside of herself and just keep putting herself out there until she figured out how to make it work."
In one scene, the school throws a big Christmas party at the end of the semester, and students ask Kelsey to help them learn and perform a play based on the biblical book of Ruth, a story highlighting God's covenant of faithfulness. 
That scene, Mauzy said, plays into the film's theme of God working through tragedy. 
"There are just all these little reminders to Kelsey throughout the film that like there's still a purpose on her life, and there's still a plan," she said. "And it's one of those things that I think you might not understand is happening at the moment if you're going through it personally, but looking back, it's like you can see God's hand through all of these different circumstances."
"Sun Moon" is the latest film from Affirm Originals, the studio behind a slew of faith-based hits, including "War Room," "Heaven is for Real" and "Miracles from Heaven." Later this month, the studio will release "Big George Foreman," highlighting the famed boxer's journey from heavyweight champion to pastor and then heavyweight champion again.
Mauzy encouraged those who enjoy positive, uplifting content to support movies like "Sun Moon" and other inspirational films, stressing that "the more that you support these kinds of movies, the more investors and studios are willing to make them."
"I think that the quality of wholesome movies is getting better and better," she said. "But realistically, studios and investors don't want to put the money out for a film that they don't think people are going to see or share with their friends. So I think that's one of the reasons that it that it is important."
"I think [this film] will be inspiring and hopefully uplifting to people who see it," she added.