New 'Unbroken' Movie Shows Impact Billy Graham Had in Transforming Louis Zamperini's Life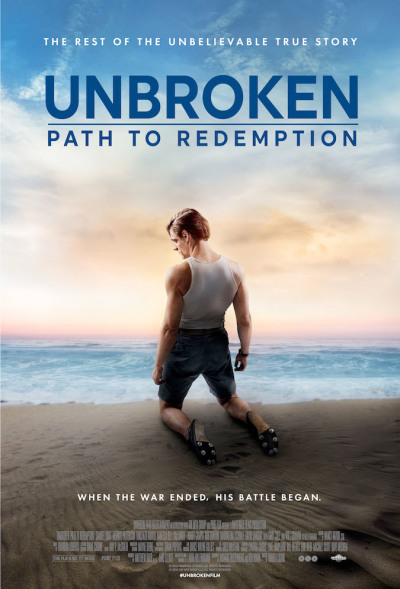 NASHVILLE — "Unbroken: Path to Redemption," tells the second half of Olympic gold medalist Louis Zamperini's life after he returns to America from World World II as a prisoner of war survivor. The new film details the encounter Zamperini had with Billy Graham that would change the hero's life forever.
Coming to theaters Oct. 5, "Unbroken: Path to Redemption" is the inspiring true story continuation of Zamperini's post-World War II struggle to find peace and forgiveness after facing brutal torture as a Japanese prisoner of war. The new film picks up where Angelina Jolie's 2014's epic "Unbroken" movie ended.
Bringing this redemption story to life on the silver screen is actor Samuel Hunt ("Chicago P.D.") as Zamperini; Merritt Patterson ("The Royals") as his wife, Cynthia; David Sakurai ("Iron Fist") as Zamperini's prison guard Watanabe/"The Bird;" and evangelist Will Graham as the late Billy Graham, his own grandfather.
During a candid interview on the film, Co-Producer Matthew Baer described what it was like to bring two legacies together on the screen to tell the inspiring story.
"A great aspect of the movie is that Will Graham plays his grandfather," Baer told The Christian Post at the National Religious Broadcasters' Convention earlier this month.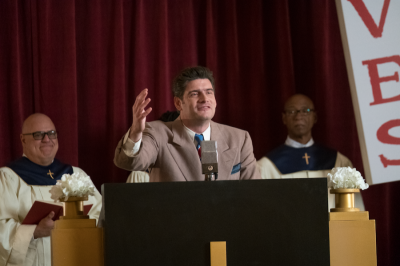 "We have such a lovely legacy in the film, this powerful connection between Louis Zamperini and Billy Graham. So the first thing that we did was, we got in touch with Will to see if he would be interested for taking this on. And he was for a very simple reason — to honor his grandfather and the power that Billy Graham had on Louis' life. I think that it was courageous of Will to step into shoes that most people don't do."
Baer, who has been involved in trying to get Zamperini's story told for the past 20 years, said Will, although new to the acting scene, did a "terrific job" in the movie.
"Now obviously it is even more powerful with Billy being gone, that Will is taking the mantle in the film," Baer said.
"There was a power to Billy Graham that is undeniable," the filmmaker added. "When he was a young man preaching in 1949 Los Angeles, and you look at the real footage — we have some of the real footage in the film — when you look at the power of who Billy Graham was as a speaker, as an inspiration, he was one of the most articulate and beautiful public speakers of all time."
According to the film's synopsis, the film tells the story of "Zamperini's experiences returning to the United States."
"When the war ended, his real battle began. Haunted by nightmares of his torment, Louie sees himself as anything but a hero. Then, he meets Cynthia, a young woman who captures his eye—and his heart. Louie's wrathful quest for revenge drives him deeper into despair, putting the couple on the brink of divorce. Cynthia turns to God, and prays for Louie to find peace and forgiveness [and he does after attending a Graham crusade]."
Baer said he is "thrilled" to be able to present the story "at a time like now when people need to feel inspiration spiritually."
Both "Unbroken" films are based on the Laura Hillenbrand book Unbroken: A World War II Story of Survival, which spent four years on The New York Times best-seller list in hardcover, including 15 weeks at No. 1.
"Unbroken: Path to Redemption" was written by Richard Friedenberg ("A River Runs Through It") and Kenneth Hixon ("City By The Sea") and produced by Baer and Mike Elliott, directed by Harold Cronk, and executive produced by Dave Mechem, Luke Zamperini, Cynthia Garris, Erik Weir, Bill Reeves and Michael Scott.