New USCIRF Chair Robert George: Religious Freedom Commission Is 'Nation's Conscience'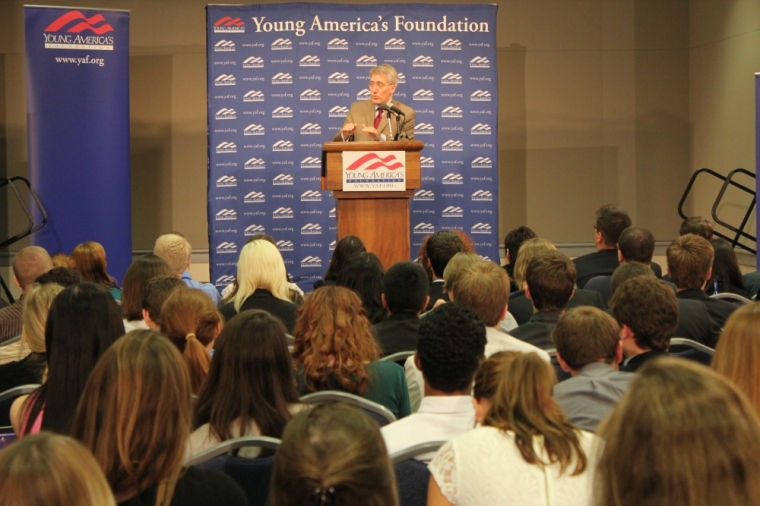 Princeton law professor Robert P. George, newly elected chair of the United States Commission on International Religious Freedom (USCIRF), says that USCIRF must act as America's conscience for religious liberty, which is a fundamental part of human dignity.
"It's the job of this Commission to be this nation's conscience," George said in a Monday interview with The Christian Post.
He shared his goals for the Commission and the essential need for religious freedom. "There are significant threats to religious liberty around the world," he said, mentioning a broad swath of countries in Europe, the Middle East, and Asia.
"In the name of secularism, the freedom of religious believers can be violated," George said, and "it is violated in some parts of Europe when Muslim girls are forbidden to wear the headscarf or when Christian and Jewish girls are forbidden from wearing a cross or a Star of David on a chain around their necks."
George also mentioned the German court which banned male infant circumcision last year, to the consternation of both Muslims and Jews. These actions, while not "done in the name of religion," may find justification in a secularist worldview, but the professor still condemned them as "violations of religious freedom."
He also mentioned Middle Eastern Christians, a persecuted group that George said weighs heavily on his heart. "We've seen an exodus of Christians from Middle Eastern countries, including from the Holy Land," he lamented. "This is where Christianity began…It's a great tragedy that people feel forced to flee."
The new USCIRF chair also mentioned "the big offenders" of religious freedoms, those on the Commission's Countries of Particular Concern (CPC) list.
Every year, USCIRF notifies the State Department about CPCs, or nations with ongoing, egregious violations of religious freedom that USCIRF recommends the U.S. government impose sanctions on or other action against. The list includes North Korea, China, and Iran, along with Egypt, Eritrea, Iraq, Burma, Nigeria, Pakistan, Saudi Arabia, Sudan, Tajikistan, Turkmenistan, Uzbekistan, and Vietnam.
"We need to do everything we can, in conducting our foreign affairs, to prioritize religious liberty and not let it be pushed to the side in favor of other considerations," whether economic or strategic, George asserted. "Those nations should never be permitted to suppose that the U.S. does not care about the mistreatment of Chinese Muslims…or how they treat Chinese Catholics or the Falun Gong."
George argued that religious liberty is a fundamental right, a necessary consequence of human dignity. "The moral obligation to respect religious freedom is not merely in a mutual non-aggression pact," where people with different views nevertheless agree to live together in peace. Instead, "respect for the human being and human dignity given the nature of man…is the real basis" for it.
Only allowing people the ability to choose their own faith honors the "dignity of the human person as a spiritual being, as a being who engages in the religious quest," he said. Men and women ask "the deepest questions about the meaning of life, where we come from, where our destiny lies, whether there are more than merely human sources of meaning and value, whether there is a higher law to which we are bound in conscience."
Since people naturally seek this higher order, they must be free to adhere to the religion of their choice, to both speak and act according to their conscience in the public square, George said. "We wouldn't say to Martin Luther King, 'leave your claims about the nature of human dignity, as based on the universal brotherhood of man under the fatherhood of God, at the door of Ebenezer Baptist Church.'"
The law professor also said that there has never been a "golden age" of religious liberty. He quoted British journalist and author G. K. Chesterton, saying "original sin is the one Christian doctrine for which there is empirical evidence." While religious persecution "is a perennial temptation and a perennial problem," George expressed hope that "we can make progress."