New Yorkers Less Receptive to Gospel of Jesus Christ 14 Years After 9/11, Says Mennonite Missionary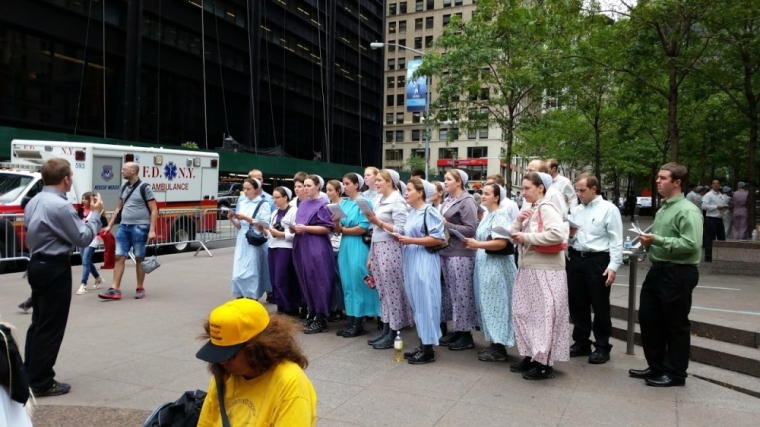 NEW YORK — A Vermont-based Mennonite who makes the journey to New York City each Sept. 11 to bring hope and healing to local residents after the terrorist attacks that killed over 3,000 people in 2001, says people seem to become less receptive to the Gospel message of Jesus Christ every year.
Bryan Hess, a member of Green Mountain Mennonite Fellowship in Bennington, joins dozens of other Mennonites each year at the World Trade Center as part of an outreach ministry that includes handing out tracts, singing hymns and distribution of water bottles.
Speaking to The Christian Post on Friday, Hess explained how things have changed in the area since 2001.
"[New Yorkers have become] a lot less receptive than they were in 2001. We used to hand out 20,000 CDs. Where now it's way less," said Hess, who believes the events of Sept. 11, 2001, are no longer fresh in people's minds which is why they aren't searching for hope the way they were in the years following the tragedy.
"It's kind of a sad thing. "Why does it take a catastrophe to make people turn to God and seek his face?," he asked, noting that each year he sees fewer and fewer people in downtown Manhattan commemorating the anniversary of 9/11.
Hess, along with a small Mennonite choir, were planted in Zuccotti Park, just a few blocks away from the World Trade Center. Members of the church, donned in conservative wear with women sporting head coverings, said they'll keep visiting each 9/11, despite declining interest in their tracts and religious information.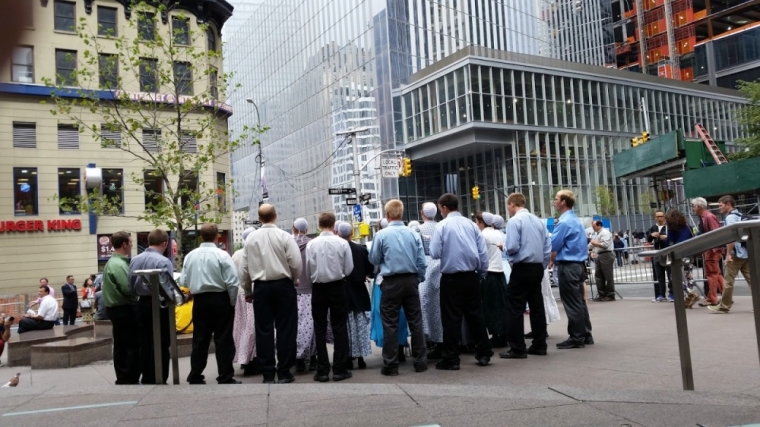 "Jesus is here to heal the broken hearted and to give comfort. There's a lot of people who don't know where to turn," said Hess, whose group sang spiritual hymns to bring comfort to those visiting the World Trade Center.
"And that's why we're here. We're here encouraging people to turn to God and to turn to the Bible."
And even though they're received some negative reactions to their message, Hess said the majority of people appreciate the work they're doing.
"For a lot of [us], it takes a lot of courage to come here, and for me too. Just because we have no idea what we are going to face and what people are going to think," he said. "It can be a little bit challenging to know how to relate to everybody, but our focus is on spreading the Gospel and not looking around us and seeing how bad everything is, " he said about the grouo's experience being conservative Mennonites doing mission work in a city such as New York where people lead many different lifestyles.
As they shared the message of hope in Christ with New Yorkers, Hess spoke to CP about whay God would allow the events of Sept. 11, 2001 to take place.
"God's ways are higher than our ways. God allows suffering in all of our lives in lots of different ways. One of the reasons for this is to bring people's minds back to Him. There's a lot of people in [New York] that suffered way more than I did because they lost loved ones, but this life is so short and I think it's God's way of getting our attention," he said.