Newly Elected SBC President Ronnie Floyd Integral in Launching Effort to Help Churches Support Members Struggling With Mental Health Challenges
Pastor Ronnie Floyd, who was elected as the Southern Baptist Convention's new president during the denomination's annual meeting held in Baltimore this week, has been instrumental in encouraging members to take a leadership role in addressing an array of mental health concerns.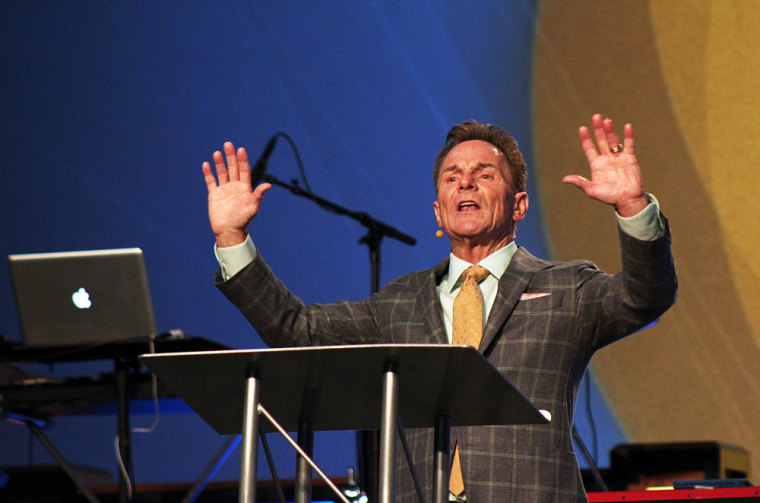 Last year, Floyd, senior pastor of Cross Church in Springdale, Arkansas, spoke boldly and passionately at the convention about passing a resolution on "Mental Health Concerns and the Heart of God," and the need for Southern Baptist churches to care for and bring healing to all who feel isolated and stigmatized by mental health concerns.
"We can no longer be silent about this issue," Floyd said on the convention floor in Houston on June 11, 2013. "It's time that the SBC be on the front lines of mental health challenges."
Before that vote, pastor Rick Warren of Saddleback Church in Lake Forest, California, sent out a message of support for the resolution on Twitter, saying: "TODAY we ask #SBC13 to approve a resolution on raising awareness and lowering the stigma of mental illness. Pray it passes."
Southern Baptist church leaders voted overwhelmingly to approve the resolution that affirms messengers' support for "the wise use of medical intervention for mental health concerns when appropriate" and "research and treatment of mental health concerns when undertaken in a manner consistent with a biblical worldview."
The resolution also affirmed that "those in Christ cannot be separated from the eternal love of God that is in Christ Jesus" and asked Southern Baptists and their churches "to look for and create opportunities to love and minister to, and develop methods and resources to care for, those who struggle with mental health concerns and their families."
In February, members of the SBC Executive Committee, in response to a motion made by Floyd last year, "considered ways to work in cooperation with SBC entities and others to address the severe challenges imposed by mental illness," as noted in its annual Book of Reports, which is publically available for members of the denomination to review.
Floyd's motion asked "… that the Executive Committee and the Bylaw 14 entities of the Southern Baptist Convention work in cooperation to assist our churches in the challenge of ministry to those suffering from mental health issues," and provide an annual report on what they have done and will continue to do to "assist our churches in equipping and ministering to the people in our churches and communities who suffer with mental health challenges."
The Bylaw 14 entities include: the International and North American mission boards, LifeWay Christian Resources, GuideStone Financial Resources, the Ethics and Liberty Commission, and the SBC's six seminaries.
In addition, more than 20 representatives from Southern Baptist churches throughout the United States and the U.S. Virgin Islands have been named by SBC Executive Committee President Frank S. Page — whose eldest daughter, Melissa, died by suicide in November 2009 — to join the volunteer Mental Health Advisory Council.
The volunteer advisory council also includes Christian professionals in the mental health field who will report to Page over the course of the year and advise him on possible ways to better inform Southern Baptists about available mental health services provided in the church and community, as well as ministry resources that are available.
Since the advisory council is not an official committee of the convention, "the group will neither launch nor execute official SBC ministries, although individual members may develop their own ministry affinity networks to further engage churches in ministries to individuals and families with mental health needs," according to SBCLife, the journal of the Southern Baptist Convention.
The advisory council's role, notes SBCLife, is to "provide information, insight, and counsel to EC staff concerning the special needs and concerns of persons and families experiencing mental health issues in the Southern Baptist network of churches."
Also, since it's not an official committee, SBC budgetary funds are not allocated for the advisory council, and thus, the group meets at their own expense.
A LifeWay Christian Resources report published in September 2013 titled "Half of evangelicals believe prayer can heal mental illness," found that 51 percent of the 1,001 Americans they surveyed said "someone close to them has experienced mental illness."
The survey, conducted Sept. 6-10, also found that "50 percent of those 18-29 years old said prayer and Bible study could overcome mental illness," But that number dropped to just 30 percent for people aged 55-64.
"Fifty-four percent of Americans said churches should do more to prevent suicide. And that number jumps to 64 percent among evangelical, fundamentalist or born-again Christians."
Watch Ronnie Floyd's Interview With CP: