News Anchor Cries During Surprise Reunion With Adopted Boy She Helped Find a Family (VIDEO)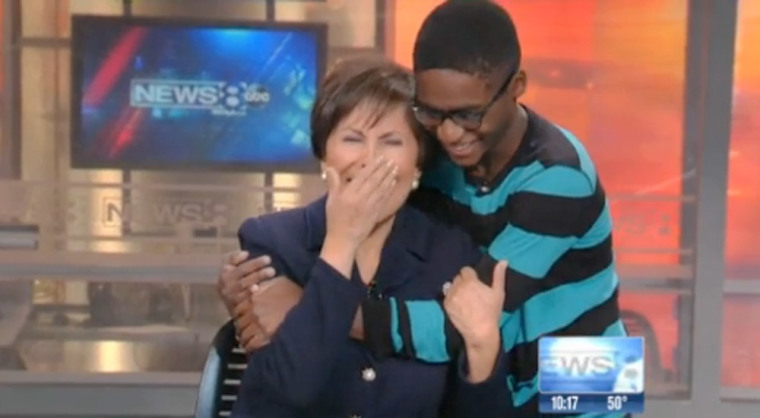 Over her 30 years with WFAA in Dallas, Gloria Campos was more than a news anchor. She was an advocate for abused and neglected children in the foster care system. In her Wednesday's Child segments, she told the stories of these children who so sorely needed loving homes.
In 2007, Campos featured 8-year-old Ke'onte, a boy who she lauded for living by the Golden Rule.
"Treat people the way you want to be treated," he said in the segment.
Ke'onte was soon adopted, but it fell through. In 2009, Campos reported on him again, hoping for a second chance for the boy. That chance came in the form of Scott and Carol Cook, the couple who adopted Ke'onte. It was a divine match.
"Not only did you bring us the child that God wanted us to have," said Carol about Campos' report. "…but you've also helped touch millions through him being able to talk about his story."
Ke'onte spoke before Congress about his four years in foster care, during which he felt he was overmedicated with psychiatric drugs. Now, Ke'onte is 14 and thriving with his family, and he wanted to thank Campos for her perseverance in telling his story and finding him a home.
"I want to say to her thank you so much, because you've made my life worthwhile and you've helped me become the person that I am right now," he said.
During a broadcast last week, one of Campos' last at WFAA, Ke'onte got a chance to express his appreciation with an emotional surprise reunion on-camera.