NewSpring Megachurch Gives Over 7,000 New Balance Shoes to Underprivileged Students; Parents' Face 'Priceless'
NewSpring Megachurch Gives Over 7,000 New Balance Shoes to Underprivileged Students; Parents' Face 'Priceless'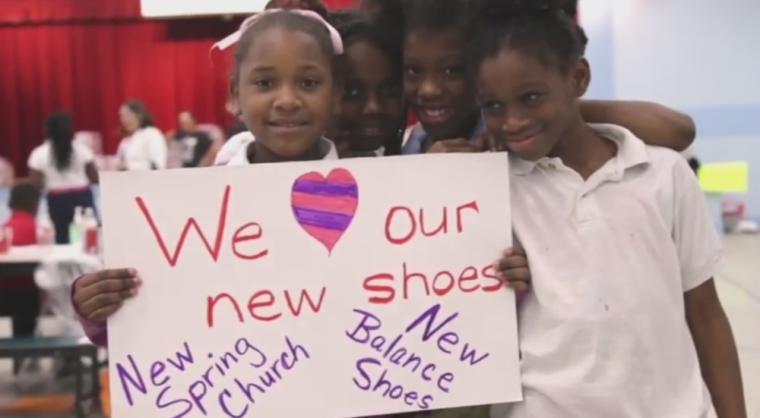 South Carolina megachurch NewSpring gave away over $215,000 worth of shoes and gift cards to students and teachers in underprivileged schools earlier this month. NewSpring Public Relations Director Suzanne Swift said the donations are a no-strings-attached way to show the community they care.
"Our church believes you can't do life alone and as families are buying gifts for Christmas and other necessities, this is just a small way we can come alongside them, be generous and help these families in our community," Swift told The Christian Post.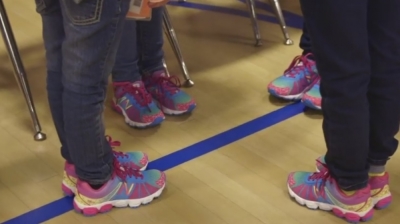 More than 350 volunteers from Pastor Perry Noble's multi-site church traveled to 12 elementary schools, giving away 7,265 pairs of colorful New Balance shoes fresh out of the boxes to every single student. Teachers and staff also received $25 restaurant gift cards as well.
Swift said, "We understand working in elementary schools can be challenging and we are so thankful for all the hard work teachers and staff put in each year."
According to Swift, the church started this effort in 2008, giving backpacks, coats and shoes to three to four schools, targeting at least one school near each of its NewSpring campuses. As NewSpring grew to 10 campuses, the church grew its giveaway. Through last year's efforts, students at 11 elementary schools received 5,250 pairs of shoes.
She explained, "We work with our district offices and just ask the district office workers there … which schools would benefit the most and what was their greatest need and so from there the conversations just continue to be shoes and coats and backpacks. Over the years we've done a different grouping of all of those things."
New Spring's relationships with the schools have developed over the years and they keep returning again and again to supply students' needs, and at times replacing last year's gifted shoes with a fresher pair.
"A lot of students in these schools really needed a new pair of shoes and we know that Christmas is a busy time for families. Lots of families are stretched thin and so this is one way that we can be a part of our community and give these kids some new shoes they can be excited about," Swift said.
The seemingly small gesture meant a lot to the teachers and school administrators who saw a notable difference in their students.
Teacher Mandy Richelle was so impressed by the church's efforts she Instagramed its staff members with this message: "That's my school! Just wanted to say thank you for your generosity!! They absolutely loved the shoes!! They love seeing how high they can jump!! And the boys in my class are convinced they are Spider-Man with their red and blue shoes!!! Y'all made such a huge impact on their life (sic) with a simple pair of shoes!! Thank you again!!"
Another adult Anna Cockrum wrote to the church on Instagram: "Some children from my daughters daycare received new shoes and the looks on their faces as they showed their parents was (sic) priceless!"