NFL Rams' Stedman Bailey Praises Jesus' Miracles After Being Shot Twice in Head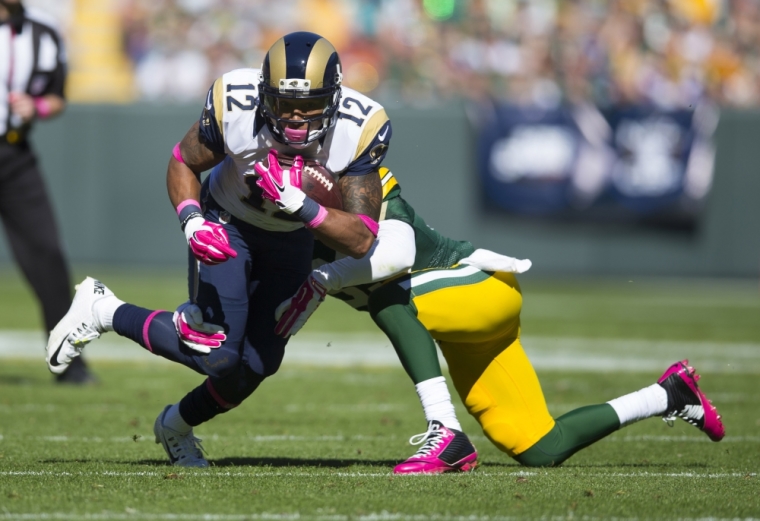 After being shot in the head twice, undergoing six hours of surgery and being place in a medically induced coma, St. Louis Rams wide receiver Stedman Bailey believes Jesus Christ is working miracles in his life.
Bailey, 25, took to Twitter to glorify God in his first message since being shot in the head on Nov. 24.
"To my entire Rams family, especially my teammates, fans and peers, I thank you so much for your continued prayers and support. My recovery has been nothing short of a miracle (a work of GOD) and I can only give GOD the praise, glory and honor for which he is doing in my life at this time," Bailey wrote on Twitter Friday.
"Christmas is a holiday in which Jesus was born as a gift to the world. But in all honesty, He has given me and my family a gift which is far greater than what any man can give, a restoration of my life and health. I will continue to get better day by day until I'm able to get back on the field and I ask for your continued prayers."
Bailey was shot in Miami Gardens, Florida, while driving in a car with his cousin, Antwan Reeves, who was driving the vehicle. Reeves' children were also in the car and he is reportedly suffering from life threatening injuries after shielding his daughter, 10, and son, 5, from bullets.
Rams coach Jeff Fisher spoke out about the crime after it happened, emphasizing how difficult dealing with the tragedy has been for the team.
"Whether you're a coach or you're a father or you're a family member, anytime something like that happens, it's very, very difficult," Fisher told reporters after the shooting. "'The guys (on the team), they love Sted. He's a popular guy. He's a great teammate and they're pulling for him right now."
Rams defensive end Chris Long added: "You hear crazy stuff all the time on the Internet, but pretty soon after that rumor started everybody started texting each other and everybody genuinely cares about Stedman. He is a great dude, he's a great teammate and we're just praying for him At the end of the day, that's stuff way bigger than football. This is the health of a teammate; this is the livelihood of a teammate. You just pray that he'll get through it and come out of it on the other end even better.
Rams defensive end William Hayes echoed the sentiments, telling ESPN: "We spend a lot of time with each other, so I look at him as a brother. ... That's basically our brother. Only thing we can do is just pray for him and just stay strong for him."
Bailey has had a tough season and was suspended for violating the NFL's performance enhancing drugs policy last month after making 12 catches for 182 yards and a touchdown this season.
When news broke last month that Bailey was suspended during his third season with the Rams, he took to Instagram to apologize for his behavior and ask for public forgiveness.
"I would like to sincerely apologize to my teammates, the Rams organization, the NFL and most especially to the fans. I put both my coaches and my teammates in a bad position by regrettably partaking in a disgraceful activity that has taken me off the field and put a halt to my ability to contribute to the team I love," Bailey wrote last month.
"I accept my punishment and part of becoming a better man is being accountable and accepting the consequences handed to me when I mess up. From the bottom of my heart, I ask for everyone's forgiveness and pray that given the chance, I'll be allowed to to not only make amends for my mistake, but also set a better example for my family, friends and everyone who loves this game.
"My age isn't an excuse and my environment and how I grew up isn't an excuse. I compromised a blessing afforded to few and with this time away, I'm dedicating my energy to do a lot of self-work and making sure it never happens again," Bailey wrote. "This game is more than winning or getting a paycheck; it's an opportunity to mold oneself into a responsible man, it's a about building trust with others and having character. ... I PROMISE I will do better."
While Bailey was initially suspended for four games, his recent shooting might mean he will not return for the season.