NFL Gay Marriage Support: 2 Football Players Offer Support for Same-Sex Marriage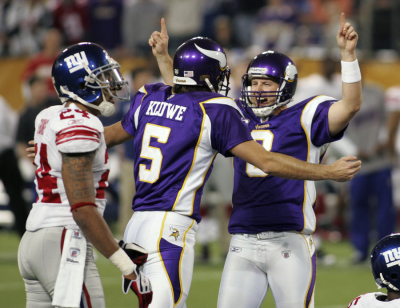 Two NFL players have come out in support of gay marriage this week, joining Hollywood actor-director Clint Eastwood in opposing a California gay marriage ban.
NFL stars, Chris Kluwe and Brendon Ayanbadejo, signed a brief in support of gay marriage that has been filed with the Supreme Court. They stated: "America has walked this path before, and courageous people and the court brought us to the right result. We urge the court to repeat those actions here."
Kluwe and Ayanbadejo join Eastwood, who also reportedly signed an amicus brief urging the Supreme Court to overturn California's Proposition 8, which banned same-sex marriage in the state.
The brief was also signed by a group of lesser-known Republicans, most of whom identify as moderate or liberal and who currently do not hold a political office.
Eastwood has previously spoken on gay marriage, telling GQ Magazine in October 2011: "We're making a big deal out of things we shouldn't be making a deal out of ... Just give everybody the chance to have the life they want."
The move by Eastwood is the latest in a number of publicly political appearances by the actor. In late August 2012, Eastwood addressed the Republican National Convention in Tampa, Fla., prior to the November presidential election.
His unorthodox speech featured him speaking to an empty chair, meant to represent President Barack Obama. The speech quickly gained widespread media attention, and was praised and criticized by various analysts.
The Supreme Court will hear arguments regarding California's Proposition 8 case beginning March 26. The case revolves around the 2008 California ballot initiative supported by state voters that defines marriage as being between one man and one woman.